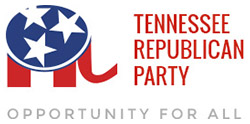 Cleveland, OH – Republicans from across the country gathered earlier this evening in Cleveland to witness the first presidential debate of the Republican primary.
The FOX News network and Facebook partnered to host the debate of the top ten GOP candidates for president based on polling averages of five recent polls conducted around the nation. Earlier in the day, FOX also hosted a forum for the remaining seven candidates.
Tennessee Republican Party Chairman Ryan Haynes stated, "
Tonight we witnessed a great discussion about the issues important to our nation.  While Democrats march closer to a coronation of their deeply flawed candidate, we are going to continue examining each of the gifted leaders on the Republican side to determine who can best lead our nation out of the doldrums of the Obama era
."
"One thing was clear this evening: The excitement for 2016 belongs to Republicans. Meanwhile, on the Democrats' side, they have a snoozer. But not only do we have the energy on our side, we have the solutions, the momentum, and the people who can accomplish great things for our nation," noted Tennessee's Republican National Committeewoman Peggy Lambert immediately following the debate.
Republican National Committee General Counsel John Ryder, who is also the National Committeeman from Tennessee, remarked, "This was an exciting night not just for those of us attending but for Republicans around the country. After the 2012 election, we came together and decided the RNC needed to exert more control over the debate process to both give voters the opportunity to hear from the candidates and to make sure whomever is selected as our eventual nominee is in prime position to take on the Democrats in the fall. We succeeded. This debate attracted one of the largest audiences ever in a primary. I look forward to continuing the conversation that was started tonight by our stellar field of Republican candidates."
Background