Austin Peay Sports Information

West Lafayette, IN – Redshirt junior outside hitter Samantha Strother and senior outside hitter Sammie Ebright combined for 14 kills but Austin Peay State University's volleyball team dropped a three-set decision (25-10, 25-22, 25-19) to host Purdue, Saturday morning, at the Mortar Board Premier at Holloway Gymnasium.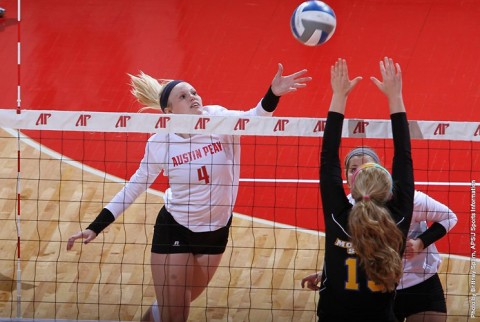 Purdue (2-0), which entered the season receiving votes in the AVCA preseason poll, broke open the first set early, racing out to a 13-2 lead which an Austin Peay timeout could not stem.
The Boilermakers kept the pressure on after the early burst, scoring 12 of the final 19 points to secure a 25-10 victory.
Purdue led the second set wire-to-wire as well, but Austin Peay (1-1) made a game of it early and late. The Lady Govs closed within three points, 7-4, on a Samantha Strother kill. Purdue would respond by building a nine-point, 14-5, lead courtesy an 8-1 run.
That was the largest lead Purdue would enjoy as Austin Peay began cutting into that deficit after trailing 18-9. A 7-2 Lady Govs run trimmed the Purdue lead to 20-16 and was helped along by two more Strother kills. Austin Peay would close within two points, 24-22, but could not put back-to-back points together late and fell 25-22.
Austin Peay enjoyed its only lead of the match courtesy Ebright's kill on the third set's opening rally. The Lady Govs would force two ties in the early going, first at 4-4 then at 5-5, but again Purdue pieced together a run that gave it breathing room.
Purdue's 6-2 run after that 5-5 tie gave it a four-point, 11-7 advantage it would not relinquish. Austin Peay closed within a point twice at 11-10 and 12-11, but would get no closer as Purdue held on for the 25-19 victory.
Strother led Austin Peay with eight kills while Ebright chipped in six kills and the duo combined for 14 of APSU's 25 kills. The Lady Govs were held to a .083 attack percentage in the contest. Freshman setter Kristen Stucker saw extended action for the first time this season and had 18 assists and a block in two sets.
"(Sammie) Ebright stepped up offensive and defensively in the match. We struggled again with our serve receive but battled in the second and third sets. We kept three freshman on the court and I was impressed as they kept their composure," said APSU Volleyball head coach Taylor Mott.
Annie Drews led Purdue with 12 kills while posting a .391 attack percentage. The Boilermakers finished with 48 kills and a .379 team attack percentage.
Austin Peay concludes its opening weekend with a 4:00pm, Saturday contest against VCU.
Box Score
Austin Peay (0-2) -VS- Purdue (2-0)
| Team | 1 | 2 | 3 |
| --- | --- | --- | --- |
| Austin Peay | 10 | 22 | 19 |
| Purdue | 25 | 25 | 25 |
Austin Peay
Purdue
Set
K
E
TA
%
K
E
TA
%
1
4
7
24
-.125
13
3
24
.417
2
10
5
32
.156
19
6
39
.333
3
11
6
28
.179
16
2
32
.406
Totals
25
18
84
.083
48
12
95
.379
Game Leaders
APSU – Leaders
| Statistic | Leaders |
| --- | --- |
| Kills | STROTHER, Samantha (8), EBRIGHT, Sammie (6), SLAY, Ashley (5) |
| Aces | STROTHER, Samantha (2), GABLE, Cecily (1), ADAMS, April (1) |
| Blocks | SLAY, Ashley (2), GABLE, Cecily (1), STUCKER, Kristen (1) |
| Assists | STUCKER, Kristen (18), ADAMS, April (3), MARSELLIS, Aubrey (2) |
| Digs | ADAMS, April (10), STROTHER, Samantha (8), EBRIGHT, Sammie (5) |
PUR – Leaders
| Statistic | Leaders |
| --- | --- |
| Kills | Drews, Annie (12), Smith, Alexa (9), Cuttino, Danielle (8) |
| Aces | Peters, Brooke (2), Evans, Ashley (1), Drews, Annie (1) |
| Blocks | Cuttino, Danielle (5), Evans, Ashley (2), Drews, Annie (2) |
| Assists | Evans, Ashley (35), Neill, Amanda (5), Peters, Brooke (1) |
| Digs | Evans, Ashley (10), Neill, Amanda (10), Peters, Brooke (3) |