Austin Peay Sports Information

Clarksville, TN – Despite an auspicious beginning, Austin Peay State University football team's offense bounced back to post a strong showing in Saturday's scrimmage—the final tune-up before the regular season begins proper next Saturday against Mercer.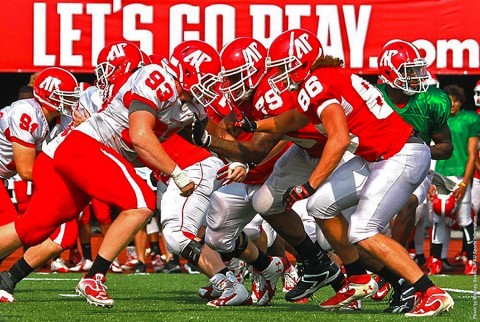 On the first play from scrimmage, senior quarterback
Trey Taylor
faked a hand-off and rolled out, looking to catch the defense off-guard with some early play action.
However, his throw hung up just a little too long and freshman Dontavious Fort-Merriweather hauled in the interception for the defense.
Taylor would settle down over the course of the scrimmage, finishing 6-for-9 for 45 yards through the air.
The Governors ground game carried the top offensive unit for much of the morning. Sophomore Otis Gerron (six carries, 47 yards) and freshman Taye Davis (five carries, 45 yards) each found the end zone for six and redshirt freshman Kendall Morris got plenty of reps as well, finishing with 37 yards on a team-high eight carries.
The tight ends continued to be a focal point for the offense, combining for six catches and 52 yards. Once again, senior Trey Salisbury found the end zone, on a one-yard grab from freshman Nolan Chowbay. Sophomore Wesley Thomas was the main target in the passing game, catching five passes for 51 yards, both team-highs.
The defense forced five three-and-outs in their own right, and were led again by redshirt freshman Gunnar Scholato, who posted seven total tackles, along with six from junior Donovan Jackson (four solo). But after posting four sacks last week, the Governors offensive line surrendered no sacks and just one tackle for loss, earned by sophomore Nicholis Matiere-Bey, in Saturday's action.
The Govs will be back at Governors Stadium from 3:00pm-5:00pm, Sunday, for the annual fan day event. Regular season action starts 4:00pm, Saturday, September 5th against Mercer.
Video
Catching up with head coach Kirby Cannon after the Govs final 2015 preseason scrimmage.