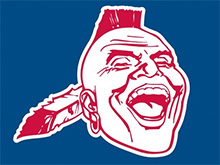 Clarksville, TN – It's easy to fly under the radar when you play on a team hell-bent on losing 100 games. The talented players tend to get the benefit of the doubt—Shelby Miller didn't pitch perfectly in every one of those starts he was unable to win, just most of them, but you wouldn't know that from listening to Chip and Joe—and the…less…talented guys bear the brunt of the blame (I can only imagine Fredi Gonzalez's whole spiel to keep his job will be, "Whaddya want from me? I thought you were going to give me real ballplayers to coach.")
Even so, I'm a little discouraged at Andrelton Simmons' development.
(DEEEEEEP breaths, everybody. It's not all bad, I promise. Andrelton Simmons is my favorite current Brave. Of course, he's one of only like, three, that I recognize, but still, this is hard on me too.)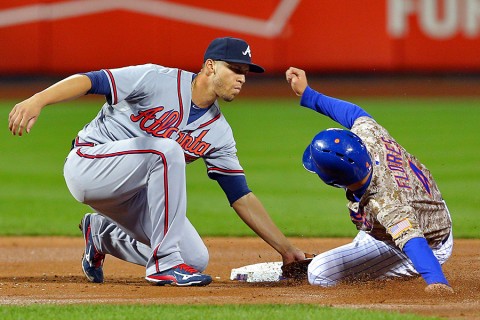 The precociously talented Simmons burst onto the scene in 2012 as a 22-year old, hitting .289 and making a year's worth of highlight-worthy defensive plays in 49 games despite missing two months with a broken finger.
He was even better the next season; despite a precipitous drop in average (a ghastly .247 batting average on balls in play didn't help), he cranked 17 home runs, was up to his usual tricks defensively, winning his first Gold Glove, and finished 14th in the MVP voting as the Braves won 96 games. At the time, everyone guessed he was heading for multiple All-Star appearances along the way.
So what's happened since?
To be clear, Simmons hasn't been bad… he just hasn't gotten any better, or at least not the sort of better one expects from a guy who's been in the league for three-and-a-half seasons. Defensively, he's still the best in the game, a shoo-in for a third straight Gold Glove and odds-on favorite to dominate that category until he retires. Offensively, however, he's stagnant at best, a career .254 hitter with more bombs in 2013 than the last two seasons combined and just flat-out not interested in milking counts (last in the NL in pitches per plate appearance this season, second from the bottom last year and fourth-worst in 2013, to say nothing of his anemic walk rates).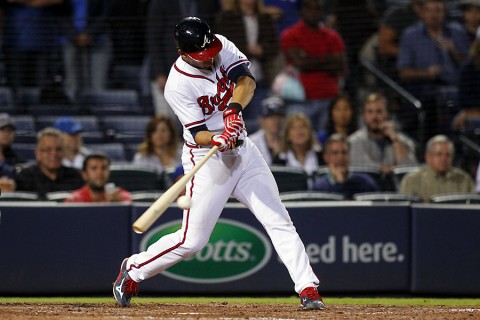 Simmons was a 7.0 WAR player two seasons ago—he'll have to have a really good last couple of weeks to have 7.0 WAR combined in 2014 and 2015. Did his career year just so happen to be his first full season, or has something happened to change his approach and the kind of player he is at the plate?
Logic would say that pitcher's figured out such a free-swinger, that he can't help himself, that his inability to hold back places a ceiling on his offensive talents. However, this piece indicates that there is light at the end of the tunnel, that Kevin Seitzer's work with him has clicked in the second half.
Chances are, Simmons approach won't get much better—if he improves to three walks a week instead of two, that's something to be proud of. An increased line drive rate—provided he's done swinging for the fences—should help that BABIP and raise the regular average near the .270 mark.
If that happens, consider him to be an extremely wealthy man's Rey Ordonez, a low-pop defensive wizard who won't kill you at the plate. If he's hitting seventh, you've got yourself a nice luxury in the bottom third of the order.
What to Read
The Braves don't often wind up in Entertainment Weekly, but there again it's not every day a former President of the United States shows up on Kiss Cam and plants a big one on the former First Lady. But that's exactly what happened when Jimmy and Rosalynn Carter went to last week's game against Toronto.
(Also, best wishes to the former President, who announced in August that cancer had spread to his brain.)
Stat o' the Week
Part-youth, part-notbeingverygood, Braves relievers have an MLB-worst 10.2 walk percentage this season.
If you only catch one game of the Marlins series, make it…
To be honest, I'm just excited to see a team that's having a more disappointing season than the Braves. That it's a division rival makes it that much sweeter.
Complementary Old-Timey Baseball Quote
"All coaches religiously carry fungo bats in the spring to ward off suggestions that they are not working." – Jim Brosnan, The Long Season
Best Performance by a former Brave last week
Is… is that a tie? I think it is! For the pitcher's: Alex Wood, who twirled eight shutout innings and allowed one hit for the Dodgers against the Rockies. Meanwhile, Hector Olivera was 4-for-16 with one extra base hit and no RBI.
And for the hitter's, we stay in the NL West where Justin Upton cranked his 26th home run and hit .400 for the week for a firmly-in-fourth-place San Diego squad. As ever, you can always count on J-Up when nothing of consequence was on the table.