APSU Sports Information

Clarksville, TN – Two members of Austin Peay State University men's tennis team have been selected to compete in the Saint Francis Health System ITA Men's All-American Championships, beginning Saturday in Tulsa, Oklahoma.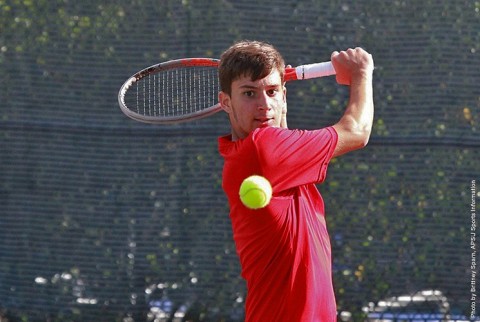 Juniors
Aaron Jumonville
and
Manuel Montenegro
will enter the prequalifying singles stage with members of nearly 80 schools.
If successful, the two Govs will advance to the qualifying portion of the schedule, with consolation and main draw stages beyond that.
This will be the first ITA All-American Championships for both players, who have been APSU's top two players this season. Jumonville opened the fall slate at No. 1 in the order, and is 1-2 to start the year after a win over UAB's Luiz Pinto at the Dale Short Shootout last weekend.
Montenegro is off to a slow start with a 0-3 record, but has only competed as the No. 2 beginning this year after an 8-1 Ohio Valley Conference record a season ago.
Austin Peay has sent participants to the Midwest event in each of the last two seasons, but are seeking its first advancement beyond prequalifying. Two Govs – Iago Seffrin and Aleksas Tverijonas – entered the field in 2014, while the trio of Jasmin Ademovic, Dimitar Ristovski and Tverijonas did so the previous year.