Clarksville, TN – Montgomery County Sheriff's Office (MCSO) Deputies have recovered a stolen vehicle and stolen gun over the weekend.
While on routine patrol Deputy Jonathan Inman located a stolen vehicle on Cumberland Drive. Inman followed the vehicle as it turned onto Martin Street and called for backup.
Inman, joined by Deputy Kelley Potter, attempted to make a traffic stop. When the deputies exited their patrol vehicles, the suspects made a 360 degree turn in the street, then drove off at a high rate of speed.
Inman and Potter followed in pursuit. At the end of Martin Street the suspects made a U-turn and collided into Potter's patrol vehicle.
Deputies arrested the driver and passenger of the vehicle. A probable cause search of the vehicle yielded a loaded stolen Glock 27 .40 caliber pistol.
Driver Ronald Moore was charged with possession of a firearm – commission of dangerous felony, evading arrest in a vehicle, automobile theft, reckless driving, resisting arrest, aggravated assault, and contempt. His bond is $50,000.
Passenger Desmond Garrett was charged with theft of property. His bond is $2000.
No one was injured in the pursuit or accident.
Ronald Moore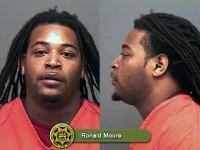 Name: Ronald Moore
Gender: M
Race: B
Address: Peachers Mill Road Apt. G, Clarksville, TN
Arresting Officer: Jonathan Inman
Charges: Weapon – Possession Firearm during commission of Dangerous Felony; Evading arrest in vehicle; Theft; Resisting – Stop, Frisk, Halt, Search; Reckless Driving, Contempt, Aggravated assault
Booked Into: Montgomery County Jail
Bond: $50,000.00
Desmond Garrett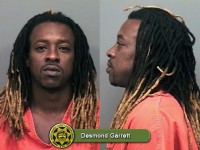 Name: Desmond Garrett
Gender: M
Race: B
Address: Laurent Lane, Clarksville, TN
Arresting Officer: Jonathan Inman
Charges: Theft of Property
Booked Into: Montgomery County Jail
Bond: $2,000.00