Written by Sgt. Elizabeth Peña
Joint Task Force 136th (Maneuver Enhancement Brigade)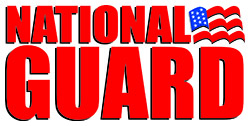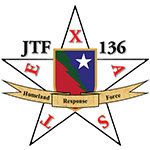 Fort Campbell, KY – Texas Guardsmen from the 136th Maneuver Enhancement Brigade, based out of Round Rock, Texas, exercised their combat readiness skills during a three-week Warfighter at Fort Campbell, Kentucky, just in time to get home for Thanksgiving.
The 136th MEB went to Fort Campbell November 5th-22nd in support of the 101st Airborne Division (Air Assault) for the real-time scenario spanning three fictional countries in the Middle East. The purpose of Warfighter is to test a unit's battle skills and ensure it is fit for overseas combat.
"This is our available year, so generally that is when you are going to see a brigade assigned to a warfighter exercise," said Col. Scott Mac Leod, commander of the 136th MEB. "It's part of the [Army Force Generation] cycle, which means, theoretically, that if an overseas contingency requirement occurred, it's possible that the 136th MEB could be assigned to deploy in support of that assignment."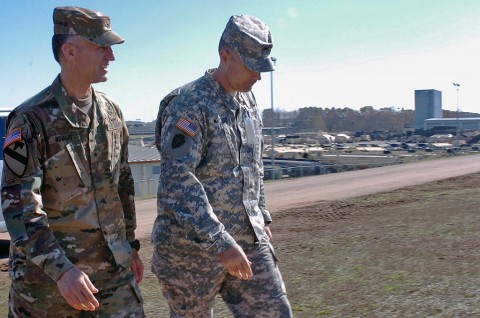 During the exercise, each participating brigade or division is assigned an observer team to help guide them in the right direction.
"We pretty much just coach. We don't control anything," said Lt. Col. Randy Spell, chief observer coach/trainer for the Mission Command Training Program. "If y'all have a process that needs some improvement or you have some gaps within that process, we help you through them with a doctrinal example for a way that we have seen successful."
Warfighter is a great opportunity for soldiers to exercise their duty roles while training to respond quickly to incidents and short-term objectives within a full-scale scenario.
"There were priorities of work for our unit in support of the division," said Mac Leod. "Protection of critical assets, security and clearance of all of the routes within division area, providing security forces to the base defense clusters, as well as the employment of tactical combat force to find fix and destroy level three threats that might appear in the rear area."
These real-life scenarios gave the brigade's combat veterans a chance to mentor their less-experienced team members on the best plans and procedures, should a real-world contingency occur.
"I've been on six deployments and I can tell you that most of the things we are doing here, just from the tactical side, are things that I think about, worry about, address, fix and react to on the battlefield," said Maj. George Hurd, chief of operations for the 136th MEB. "Having the whole brigade be exposed to these systems, whenever we go forward and the next time we deploy, is one less roadblock we have to worry about."
Throughout the three weeks, the 136th MEB demonstrated the greatest proficiency in staff communication and ensuring everyone knew the status of the conflict at any given moment through the live battle tracker.
"Our common operational picture put us in a position to follow the [division] commander's intent. So basically the tools that the staff developed from the beginning to the mid point put them in a position to help me know if, when and what to decide so they supported my decision cycle. By increasing the rate at which they were able to do that, it enabled us to work more rapidly to solve the problems we were encountering."
For some of these soldiers, this is as close to a deployment as they have experienced.
"The thing that I really got out of it was getting to see how the 136th MEB interacts with other units around it," said Spc. Shane Wilson, an intelligence analyst with the 136th MEB. "The MEB has a unique role, which the Army is trying to test and trying to figure where it belongs. [It] was pretty interesting to see how the staff functions and how complex it really is."
The 136th MEB was distinguished as the only National Guard outfit participating in the Warfighter, joining the 101st Airborne Division (Air Assault) and one of its subordinate brigades, the 101st Sustainment Brigade.
"There is no question that y'all have come a long way," said Spell. "We are very proud of you; we feel like we are integrated as a part of your staff. National Guard, active duty, it doesn't matter. We all respond to one fight."
When the 136th MEB isn't training for their overseas mission of area support operations, they are back home in Texas where they are custodian of the FEMA Region VI Homeland Response Force mission. There, they train alongside first responders and civil authorities to combat the threat of Chemical, Biological, Radiological, Nuclear and High-Yield Explosive incidents throughout Texas, Oklahoma, New Mexico, Arkansas and Louisiana.
"There is a lot of what we do here that can be run over to our Defense Support of Civil Authorities," said Hurd. "One is having to make swift timely decisions. I'm looking forward to taking these products home. I've got a lot of good examples of ways to better synergize our efforts."
These vigilant guardsmen can return home with confidence knowing they are fit for the fight.
"I'm immensely proud of our soldiers, said Mac Leod. "Everyone here is just a little bit sleep deprived, a little bit worn out but they've got a lot to be proud of. We came here, we wanted to do well tactically and technically but we also wanted to represent Texas and I think we achieved that objective."