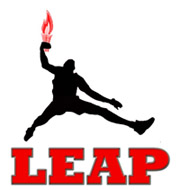 Nashville, TN – UPS collaborates with the LEAP Organization to educate students on job seeking strategies, best practices to retain employment and receive promotions, and the benefits associated with employment opportunities with UPS.
The goal of LEAP's Career Readiness Program is to provide youth ages 16 to 24 with critical job skills to prepare them for entry into the workforce. Members of UPS Human Resources Department educated the students on the UPS mission and history then guided them on a tour on their warehouse facility to explain the various positions within the company.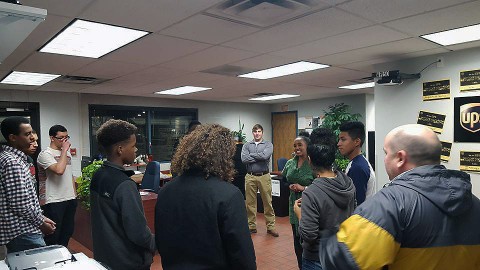 Afterwards students were given resume writing and interviewing tips to obtain employment with best practices to retain the position and advance.
"We were excited about opening our doors to educate students about our company and inspire them to achieve their career goals," said Tracy Pointer, HR Manager for UPS. "Their inquiring minds wanted to know and they were intuitive, very attentive, asked good questions, and seemed to be headed on the right Workforce Ready track to make excellent employees."
UPS is thrilled about the opportunity to assist students in their career exploration to determine the field that they want to pursue.
"I think it's great that UPS is reaching out in Clarksville to help develop our kids. They picked an amazing nonprofit organization to partner with to develop our future workforce," added former UPS Supervisor of six years and current Montgomery County Commissioner Tommy Vallejos.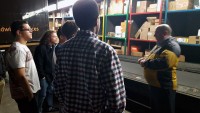 "I am grateful for Tracy and UPS seeing the vision for Partners in Employment to prepare youth to enter the workforce," expressed Richard Reason Garrett, Founder & Executive Director of the LEAP Organization. "Since LEAP's inception Pastor Tommy has been very instrumental in connecting us with the resources we need and continues to advocate for our organization to enable us to positively impact our community."
About UPS
United Parcel Service, Inc. (UPS) is the world's largest package delivery company and a provider of supply chain management solutions. The global logistics company is headquartered in Sandy Springs, Georgia, which is part of the Greater Atlanta metropolitan area. UPS delivers more than 15 million packages a day to more than 6.1 million customers in more than 220 countries and territories around the world.
About LEAP
LEAP is a nonprofit youth development organization that provides mentoring, counseling, career readiness, tutoring, community service learning opportunities, and other enriching programs. Their vision is to implement sustainable programs that equip and empower youth with the knowledge and resources they need to improve their decision making to lead healthy, productive lives.
Visit www.leaporg.net/about to learn more about us