APSU Sports Information

Clarksville, TN – Jacolby Mobley nailed a long three pointer at the overtime buzzer as UT Martin rallied in regulation and again in overtime to stun Austin Peay State University, 85-84, Saturday night in Ohio Valley Conference basketball action in Dave Aaron Arena.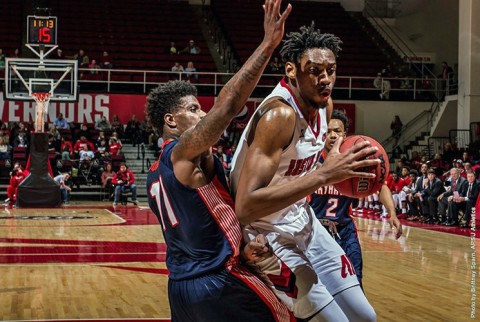 The victory was the Skyhawks' fifth straight and improved them to 15-12 overall and 7-5 in the OVC while Govs slipped to 12-16 overall and 5-8 in league play.
Mobley's game-winning bucket came after Twymond Howard rebounded Chris Horton's missed free throw with 5.1 seconds left. After initially slightly bobbling the ball, Twymond took four dribbles up court before finding Mobley along the right wing. Mobley caught it and let it fly about a step behind the three-point line. It swished through as the buzzer sounded to culminate a pair of comebacks.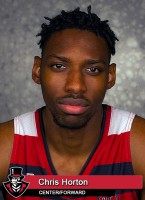 APSU led by as much as 17 second-half points before UTM methodically, with Govs inside men Chris Horton and Kenny Jones battling foul trouble, sliced the lead to a workable number late in the contest. APSU still held an eight-point advantage with 2:15 left before Mobley hit a pair of back-to-back three pointers to make it a 71-69 Govs' lead with 1:23 remaining.
Chris Horton hit a pair of free throws to extend the margin back to four with 53 ticks left. But Howard responded with a dribble drive to the bucket with 31 seconds left and again the lead was reduced to two, 73-71.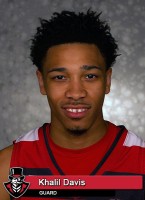 A double team in front of the scorer's table ended with a mad scramble for a loose ball that was awarded to the Govs. Khalil Davis attempted to get the ball into Josh Robinson's hands in the backcourt but the ball eluded him and was heading out of bounds. Robinson attempted to toss it back inbounds as he was heading out of bounds, but it landed right in the hands of UTM guard Terrence Durham, who dished to Howard for the tying layup.
APSU still had 11 seconds left but Robinson was called for a charge with 4.7 seconds left on a drive where he made the bucket.  UTM missed a three at the buzzer.
That sent it to overtime. The game was tied three times while the teams traded the lead three times in the first 3:09 of the half.
In fact, Robinson gave APSU the lead with 1:51 remaining on two free throws and then followed with a three that rattled out and then in with 1:00 left.
But the Skyhawks' Alex Anderson, a preseason All-OVC pick, nailed a three from the left wing with 35 seconds left to again make it a one-point contest. With time then running down on the shot clock Robinson threw a pass up for grabs for Horton, who was fouled attempting a shot with 5.1 seconds left—barely beating the shot clock. Horton made the first but saw the second one banged off the rim, setting up Mobley's heroics.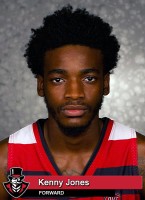 For a second straight game Mobley hurt the Govs off the bench, this time scoring 18 points after scoring in the first matchup. Howard and Anderson led all scorers with 20 points—Howard had a double-double in grabbing 10 rebounds.
Horton finished with 19 points and 11 rebounds—his 21st double-double—along with five block shots, two in overtime. Kenny Jones also had his second straight double-double with 18 points and 10 rebounds. Robinson also had 18 points but struggled to a 5-of-17 shooting night. Khalil Davis also had 11 for the Governors.
The Governors were out-rebounded only by a 41-40 margin, but UTM held a 30-19 second-half advantage, including 13 offensive grabs that led to 18 second-chance points in the second 20 minutes.
Up Next
The Austin Peay Governors play again Saturday, February 20th when they host the Murray State Racers at the Dunn Center. Tip off is set for 6:30pm CT.
Box Score
UT Martin (15-12/7-5 OVC) 85, Austin Peay (12-16/5-8 OVC) 84
| | 1 | 2 | OT | Total |
| --- | --- | --- | --- | --- |
| UT Martin | 24 | 49 | 12 | 85 |
| Austin Peay | 37 | 36 | 11 | 84 |
UT Martin 85
Player
FGM
-FGA
3FGM
-3FGA
FTM
-FTA
OFF
-DEF
TOT
PF
TP
A
TO
BLK
STL
MIN
3
Alex Anderson
7-16
6-13
0-0
1-1
2
0
20
0
3
0
0
44
30
Twymond Howard
7-20
0-2
6-10
3-7
10
4
20
3
1
1
1
35
33
Myles Taylor
3-6
0-0
5-8
3-6
9
5
11
2
1
1
1
36
4
Kedar Edwards
3-10
0-2
3-3
3-2
5
5
9
2
1
1
1
24
11
Terrence Durham
0-0
0-0
1-2
0-1
1
3
1
4
0
0
1
24
2
Jacolby Mobley
7-14
3-7
1-1
1-1
2
2
18
0
1
0
1
30
10
Chandler Rowe
2-2
0-0
2-2
2-4
6
4
6
1
0
0
0
15
0
Richard Lee
0-3
0-1
0-0
0-0
0
2
0
1
0
0
0
14
25
Javier Martinez
0-0
0-0
0-0
0-0
0
0
0
0
0
0
0
2
12
Fatodd Lewis
0-0
0-0
0-0
1-0
1
1
0
0
1
0
0
1
TM
TEAM
0-0
0-0
0-0
4-1
5
0
0
0
0
0
0
0
Totals
29-71
9-25
18-26
18-23
41
26
85
13
8
3
5
225
Austin Peay 84
Player
FGM
-FGA
3FGM
-3FGA
FTM
-FTA
OFF
-DEF
TOT
PF
TP
A
TO
BLK
STL
MIN
5
Chris Horton
5-6
0-0
9-14
6-5
11
4
19
0
2
5
2
33
4
Josh Robinson
5-17
2-7
6-6
0-5
5
3
18
4
5
0
1
42
42
Kenny Jones
6-8
0-0
6-8
0-10
10
4
18
0
3
0
1
40
11
Khalil Davis
3-8
1-5
4-5
0-1
1
4
11
2
3
2
0
34
45
Zach Glotta
0-2
0-2
0-0
0-1
1
2
0
2
1
0
1
35
3
Chris Porter-Bunton
3-5
0-0
2-3
3-4
7
4
8
2
0
0
0
16
2
Jared Savage
2-5
2-5
0-0
0-2
2
0
6
0
0
0
0
15
10
Tre' Ivory
2-2
0-0
0-0
0-1
1
0
4
0
0
0
0
10
TM
TEAM
0-0
0-0
0-0
1-1
2
0
0
0
0
0
0
0
Totals
26-53
5-19
27-36
10-30
40
21
84
10
14
7
5
225