Clarksville, TN – On Saturday, February 13th, 2016, at 3:36am, Clarksville Police investigated a report of gunshots on Jockey Drive. Officers discovered four men in a nearby vehicle with two pistols and a rifle in plain view inside the car. A police canine search located a third pistol in a nearby field.
Bullet casings recovered at the scene matched the calibers of the weapons found inside the vehicle. Nearby cars and at least one apartment door were discovered to have bullet holes.

Detective Channing Bartel continued the investigation and charged four men with reckless endangerment and unlawful possession of a weapon:  Cordarius Stinner, 22, and Javeon Davis, 20, of Meridian, Mississippi; Ian Granger, 30, and Diamonte Scott, 20, of Clarksville.
Two nine-millimeter Smith and Wesson pistols, one nine-millimeter Beretta pistol, and one Plainfield rifle were seized.
The investigation points to an altercation that happened earlier in the evening at a Clarksville nightclub. Shortly after the nightclub incident, a residence on Chapel Street was struck by several rounds at about 1:56am. Bullet casings were recovered from that scene. Detectives are investigating the Jockey Drive shooting as a possible retaliation for the Chapel Street shooting.
There are no known injuries at this time from these incidents.
Cordarius Stinner
Name: Cordarius Stinner
Gender: M
Race: B
Address: 34th Avenue, Meridian, MS
Arresting Officer: Channing Bartel
Charged With: Reckless Endangerment, Weapon-Convicted Felon Going Armed
Booked Into: Montgomery County Jail
Bond: $15,000
Javeon Davis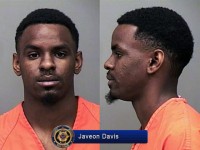 Name: Javeon Davis
Gender: M
Race: B
Address: B Street, APT I9, Meridian, MS
Arresting Officer: Channing Bartel
Charged With: Reckless Endangerment, Unlawful Carrying/Possession of a Weapon
Booked Into: Montgomery County Jail
Bond: $75,000
Ian Granger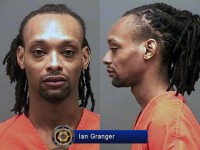 Name: Ian Granger
Gender: M
Race: B
Address: Jockey Drive, APT D, Clarksville, TN
Arresting Officer: Channing Bartel
Charged With: Reckless Endangerment, Unlawful Carrying/Possession of a Weapon
Booked Into: Montgomery County Jail
Bond: $50,000
Diamonte Scott
Name: Diamonte Scott
Gender: M
Race: B
Address: Jockey Drive, APT D, Clarksville, TN
Arresting Officer: Channing Bartel
Charged With: Aggravated Robbery, Reckless Endangerment, Weapon-Convicted Felon Going Armed, Criminal Impersonation
Booked Into: Montgomery County Jail
Bond: $200,000