APSU Sports Information

Nashville, TN – Chris Horton, who capped out off a landmark Austin Peay career with a superb senior season, has been named first-team All-Ohio Valley Conference in a vote of league coaches and sports information directors. Meanwhile, sophomore guard Josh Robinson, who became Mr. Outside to Horton's Mr. Inside, was named second-team All-OVC.
That was announced Tuesday by the OVC office.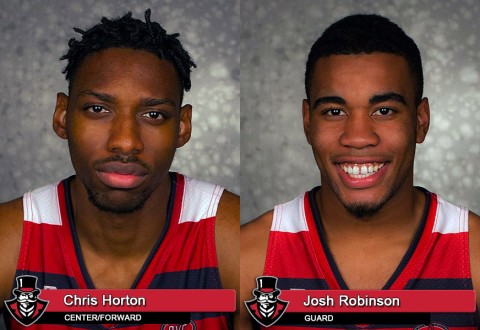 A Decatur, GA native, Horton came to APSU as a freshman known as a shot blocker…and he lived up to that, becoming not only the single-season block shot record holder but the career owner as well by end of his junior season.
This season, Horton blossomed as an offensive force. After being limited to seven points in the opener against Vanderbilt, he has reached double digits the next 30 games. He has scored 20 or more points 10 times during his seniors, including one of the most remarkable performances in Governors history when Horton scored 37 points against Lipscomb on 16-of-17 shooting. That contest spoke volumes about his offensive evolvement.
He has ranked nationally in multiple categories all season, including field-goal percentage (Top 25). However, it has been his relentless rebounding efforts that have helped him gain nationwide acclaim. He has ranked first nationally in offensive rebounding (4.8) most of the season while his 11.8 rebounds per game also has him ranked in the Top 10 nationally—he will become only the ninth player in OVC history—and APSU's first—to claim back-to-back OVC rebounding titles. Horton also has ranked in the Top 5 all season in double doubles (21). The senior Gov has led APSU in rebounding in 29 of 31 contests.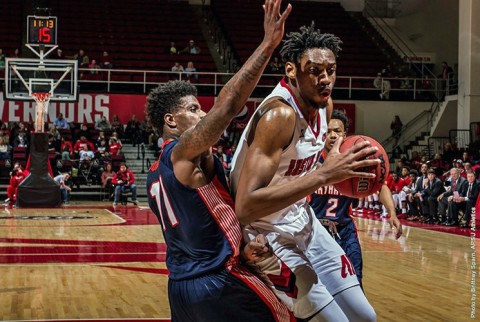 His all-round improvements saw him earlier this season join one of the nation's exclusive clubs, becoming only the 13th division i player in history to score 1500 points, snare 1000 rebounds and block 300 shots. Entering this week, Horton was just one of five active division i players with 1500 points and 1000 rebounds for his career.
He will depart APSU ranked in the program's Top 20 in 20 different categories, including the leader in blocked shots and offensive rebounds. He is one of two Austin Peay players in history—and the only one during the OVC era—with 1000 rebounds.
Horton will leave Austin Peay ranked second all-time in OVC history in blocked shots and eighth in rebounding.
"It has been really fun and sometimes interesting to watch Chris grow as a player, certainly but as a man and student-athlete," APSU coach Dave Loos said.  "He has grown so much in all the areas.
"But from a basketball standpoint he came here as a shot blocker who would get a few rebounds. But he has really developed as a rebounder where he is top of the chart nationally. He has really developed there. He never had a reputation as a scorer but he has developed as a scorer.
"His growth really has been fun to watch."
Robinson, meanwhile, has really come alive during OVC play. Although his overall scoring average 16.5 points per game, he is averaging 17.9 points per game during league play. Beginning with the SIU Edwardsville game at home, Robinson averaged 21.4 points per game.
It was in that SIUE contest that Robinson literally put the Govs on his back, rallying the Govs down the stretch, hitting a three pointer to tie the game and then score seven points in overtime for the victory—Robinson went 17-of-18 at the free-throw line.  It was the first of our OVC contests which he attempted (and made) double-digit free throws. He finished with 39 points in that game—it was one of two 30-point conference outings (he had 30 at Southeast Missouri).
Robinson also made the game-winning drive, resulting in a foul, against Murray State, where he sank two free throws (he was 11 of 12 overall) in the closing seconds to finish with 21 points.
The 6-2 St. Louis native assumed point-guard duties in the closing weekend and earned his second OVC Player of the Week honor, averaging 20 points and 4.5 assists during the weekend. He scored five straight points as the Govs pulled away from Southeast Missouri in the closing minutes.
"Josh has grown also—to some degree he is still a work in progress," Loos said. "He is a talented player who can really score. He has a number of ways to score—he can penetrate and get to the rim. He is a pretty capable passer when he gets in there and, of course, can make a three. He has a lot of ways he can score.
"Most recently he has been playing the point—he has the ball in his hands a lot more and has done a good job. He is working on cutting back on the turnovers a little bit but that will come as he gets more comfortable in the position. He is going to be one of the better players in this league moving forward."