APSU Sports Information

Clarksville, TN – Austin Peay State University track and field put on a show as hosts of the annual Austin Peay Invitational, hosting one of the bigger fields in meet history at Fortera Stadium.
The Governors hosted a number of area teams, including conference foes Murray State, UT Martin, Tennessee State and Tennessee Tech at the annual event.
The weekend kicked off Friday evening, and freshman
Savannah Amato
authored one of the weekend's signature moments for the Governors.
The Delaware, Ohio native—fresh off breaking the 13-foot barrier at the Hilltopper Relays last week—won the event with a 3.87m (12′ 8.25″) mark, while fellow freshman Dascha Hix shared second with a 3.72m (12′ 2.5″) mark. Hix's height would move her into second in the Ohio Valley Conference based on marks entering Saturday.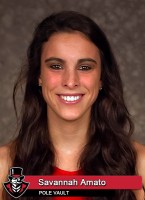 "Just another weekend of growth for our vaulters," said head coach Doug Molnar. "They learn something new or do something to improve each time out."
In early Saturday's field events, senior Michella Carter enjoyed a fifth-place, 11.46m (37′ 7.25″) mark in the shot put in her last event at Fortera Stadium.
Keyondria Ross continues to progress in the high jump. The sophomore's 1.60m (5′ 3″) mark earned her a share of seventh in the event and narrowly missed equaling her career-best 1.61m, set at the 2015 season-opener at Vanderbilt.
"Keya was solid again today," Molnar said. "She's getting better each week."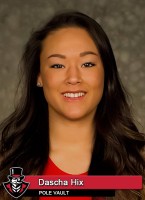 In 100m hurdles action, Austin Peay's duo of Sonja White and Myiah Johnson helped the Governors off on the right foot Saturday. White's 14.56 in the event garnered her fourth-place honors, while Johnson's 14.65 was good for sixth. White (fifth, 1:06.27) and senior Amia Butler (sixth, 1:06.34) would later post top marks in the 400m hurdles as well.
Senior Breigh Jones continues the climb back into form following an injury-marred senior campaign. The Memphis native posted a 55.50 in the 400m dash, taking third with a season-best mark that also overtook Terri Morris for the best 400m dash showing by a Governor in 2016. Jones was able to take nearly a full second off her season best in the 400m and could move in the OVC's top five in the event as we enter the stretch run.
Morris was hot on her heels in the 400m at 55.53, finishing fourth. In the day's final sprint event, Morris was able to get the better of her counterpart, posting a personal-best 24.70 in the 200m dash to take runner-up honors; Jones' 25.21 earned her seventh in her first attempt at the event during the 2016 outdoor campaign.
"Terri was phenomenal today," Molnar said. "As coaches, we're so happy to see Breigh finally getting healthy again; she'll be dangerous at the conference meet."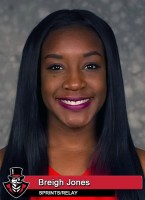 Juniors Molly Jordan and Unjala Lester were able to put the home-track advantage to great use Saturday; Jordan finished sixth (2:15.96) and Lester eighth (2:18.91), with both athletes posting personal outdoor-bests in the event.
Becca Wheeler wrapped up Saturday's individual action with a personal-best 12:04.47 in the 3000m steeplechase. She remains a top-eight performer in that event among conference runners in 2016.
The Governors closed the day with a runner-up showing in the 4x400m relay thanks to Jordan, Jones, Morris and Allysha Scott—the quartet finished in 3:49.04, less than four seconds behind Tennessee Tech.
The Governors continue the 2016 outdoor campaign at next weekend's Missouri State Invitational in Springfield, Missouri.
Video
Scenes from another successful edition of Austin Peay's annual outdoor track and field meet.