Written by Sgt. Neysa Canfield
101st Sustainment Brigade, 101st Airborne Division (AA) Public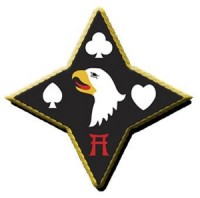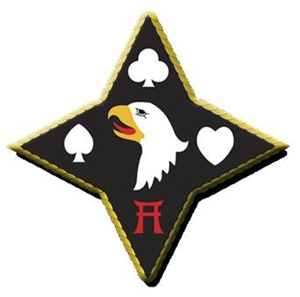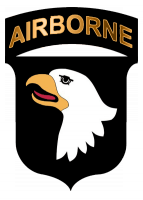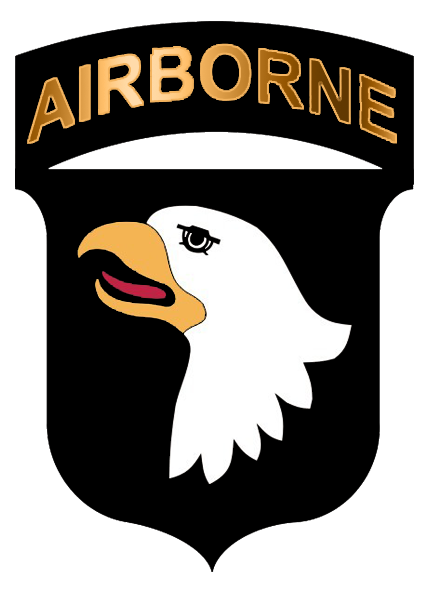 Fort Campbell, KY – Command Sgt. Maj. Michael Perry, senior enlisted leader advisor for 101st Airborne Division Sustainment Brigade, 101st Airborne Division (Air Assault), and senior noncommissioned officers in the brigade conducted their quarterly leader professional development training on Fort Campbell, KY, June 15th.
The daylong event kicked off with a four-mile run, which started at the Division headquarters building. Sgt. 1st Class David M. Taylor, a recent graduate of Master Fitness Trainer course, made sure NCOs were warmed up for the run by conducting Physical Readiness Training warm up drills.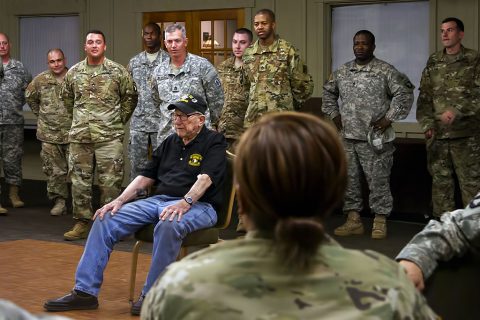 As the backbone of the brigade ran through the streets of Fort Campbell, they did not hesitate to integrate some history of the 101st Airborne Division into their run. NCOs stopped at five historical monuments, one that included the Don F. Pratt Museum, which spreads out throughout the base. During each stop, a first sergeant from a different battalion gave a brief on the history behind that specific monument.
After the run, NCOs met at the Kinnard Mission Training Complex at 9:30am as part of their leader development for backbone day.
"When I came here [to the unit] back in November one of the requirements for all the command teams was to go through Eagle Pre Command Course (PCC)," said Perry. "As part of Eagle PCC we received an overview of the capabilities that the KMTC has. I realized that if I, as brigade command sergeant major, wasn't aware of these capabilities then it was safe to say that my subordinate senior leaders were unaware as well."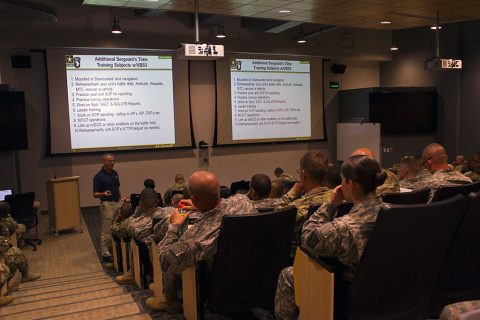 Charles W. Fitzpatrick, plans and operations chief for the KMTC, explained to all the senior NCOs what courses are available for them and their Soldiers. He went on to explain how to reserve certain classes for leaders to provide informative sergeants time training for their Soldiers.
Following a tour of the KMTC Lifeliner NCOs proceeded to the Family Resource Center where Master Sgt. Gabriel G. Barkdull, senior retention NCO for 101st Airborne Division Sustainment Brigade informed his colleagues about the newly released Army directive involving retention control point changes.
Perry stated that these changes target many of the senior NCOs in the formations, as they will not be given the opportunity to serve as many years as they had planned.
"I am glad that we have a command sergeant major that passes down information to his NCOs once he receives it," said Master Sgt. Rachel W. Terrell, operations sergeant major for 101st Abn. Div. Sust. Bde. "The Army is changing so much that it is crucial that as leaders, we need to stay informed because it affects our Soldiers and ourselves."
NCOs wrapped up backbone day by gathering at the Smokehouse right outside of base for an NCO call. The NCO call extended to all noncommissioned officers in the brigade.
Retired Army Capt. Clause "Dutch" Mann, a 92 year old World War II and Korean War veteran, made a special appearance during the NCO call.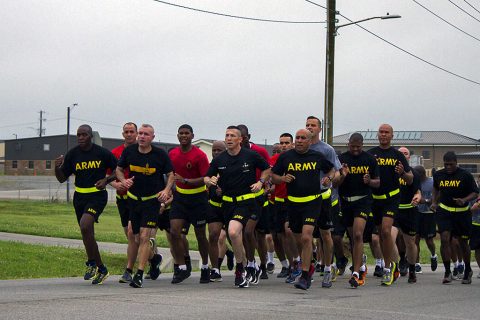 Mann, better known as Dutch, was drafted in 1942 and served in World War II. He served for two years and took a break in service. Upon his return to duty, he attained the rank equivalent to now a battalion command sergeant major. Shortly after, he was given a direct battlefield commission by the commander of 504th Parachute Infantry Regiment, 82nd Abn. Div. Mann served as a company commander during the Korean War and ended his service in 1963.
Mann shared his experience with the Lifeliner NCOs from living conditions to the amount of water they were given per day.
"For me it was humbling to hear what prior vets went through and the sacrifices they made in order for us to have the luxuries we have right now, such as having Porto johns during ftx's (field training exercise)," said Terrell. "It also makes me appreciate being in the Army and serving in the capacity that i can now, compared to how it was when Mr. Mann served."
After the guest speaker, leaders had the opportunity to interact with NCOs from different companies and battalions. Perry stated that his intent was to have junior and senior NCOs in one room in order to provide mentorship in an informal way.
"I am taking a lot of notes and will most definitely utilize a lot of what command sergeant major Perry is doing with his leader development program," said Terrell, who will soon be attending the Army's Sergeant Major Academy. "I think it's important. It's a lost program that we need to bring back because our NCOs are hungry to learn."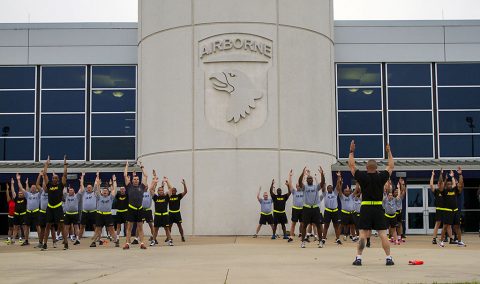 Perry said that backbone day was a phenomenal success and was pleased with the turnout in NCOs, during not only the run and professional development training, but also during the NCO call, which was open to junior NCOs.
"What we are trying to do is impart some of the traditions in these leader developments," said Perry. " These sessions are not only put in place to develop leaders here and make them better in the Sustainment brigade but also for when they go on into their next unit. It won't only benefit our unit it will also benefit the larger Army."