Clarksville, TN – Clarksville Police were dispatched to a single vehicle collision on Jack Miller Boulevard at 3:37pm today, Monday, July 4th, 2016.
A silver Chevrolet Suburban failed to negotiate a curve on Jack Miller Boulevard at Outlaw Airfield. The Suburban left the roadway and rolled at the railroad tracks.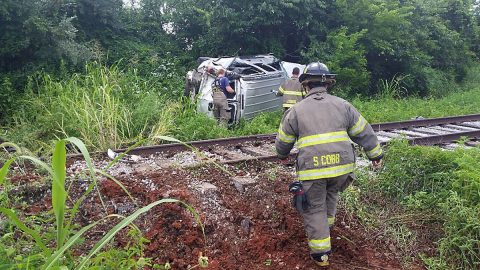 The adult male driver, a Clarksville resident, was transported to Tennova Clarksville in serious condition. CPD Traffic Officer T. McCraw stated that Clarksville Fire/Rescue had to free the driver from the back of the vehicle with the 'Jaws of Life' because the man had not been wearing his seatbelt.
Jack Miller Boulevard was reduced to one lane for over an hour; the wrecker had difficulty removing the Suburban from its position far from the roadway.
McCraw stated the driver will likely be facing charges for Driving on a Suspended License, Seatbelt Required, Financial Responsibility (Proof of Insurance), and Failure to Exercise Due Care. Alcohol is not believed to have been a factor in this crash.