Clarksville, TN – On Friday, August 12th, 2016 the last Jammin in the Alley for this year will be held in Downtown Clarksville.
The musical entertainment will kick off at 6:00pm with Life in Technicolor. At 7:00pm, Nightmasters will take the stage and finish off the night.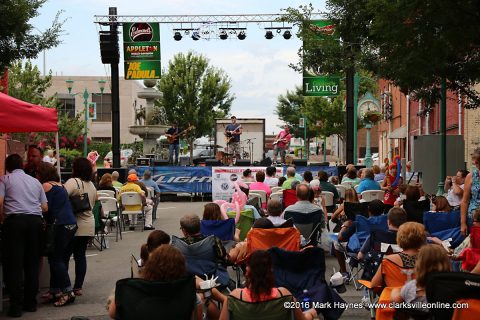 The concert kicks off at 6:00pm on Strawberry Alley and goes until 10:00pm.  This is a free concert.
Bring your chairs, sit back, relax and enjoy the music.
For the kids, there will be balloon hats, face painting, and free strawberry sodas.
Also, there will be a limited number of Jammin in the Alley t-shirts available.
Come down and support Downtown Clarksville and the local businesses that sponsor this event.
About Jammin in the Alley
Jammin in the Alley is a music event for all ages. Located on Strawberry Alley in Historic Downtown Clarksville. This is a seasonal event created to promote our Downtown and show where Clarksville started and how it is growing today. Features live bands from around the area.