APSU Sports Information

Clarksville, TN – The Austin Peay State University football team totaled 500 yards of offense for the first time since 2006, but came seven points short, 41-34, of completing a comeback against Mercer, Saturday, at Fortera Stadium.
The Governors scored twice in 33 seconds late in the fourth quarter, both cutting the deficit to a touchdown.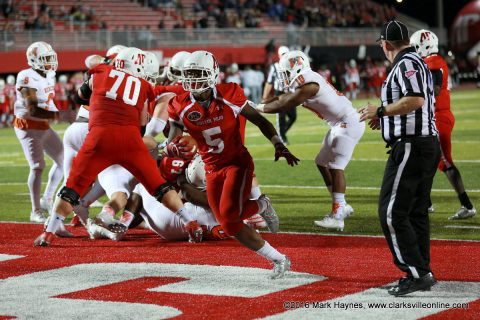 Freshman
Kentel Williams
led the offense with three rushing touchdowns, while junior receiver
Jared Beard
(181 receiving yards) and redshirt senior
Timarious Mitchell
(22-for-33, 261 yards) each had career-high performances.
The Govs committed four turnovers in the contest, all four occurring in Mercer territory. The Bears were able to turn the takeaways into seven points, proving to be the difference in the end.
The last time Austin Peay totaled 500 or more offensive yards was October 28th, 2006 against Charleston. This was the final year the Govs played in the Pioneer Football League.
It's also the first time the Governors have outgained their opponents in yardage since November 16th, 2013 against Southeast Missouri.
For Williams, he becomes the first freshman running back to score three times in a single game since Rashaan Coleman did so in 2013 vs. Southeast Missouri, tying the APSU freshman record.
Freshman quarterback JaVaughn Craig made his collegiate debut, providing a dual-threat weapon in the backfield. Craig finished the night with 137 total yards (84 rushing, 53 passing).
The freshman duo of Craig and Williams combined for 140 yards on 29 carries and three scores in the backfield for the Govs.
Beard's 181 yards is the third time this season the receiver has topped the 100-yard mark. He moves to seventh all-time in both receptions (116) and career yardage (1,444).
Freshman quarterback JaVaughn Craig made his collegiate debut, providing a dual-threat weapon in the backfield. Craig finished the night with 137 total yards (84 rushing, 53 passing).
Redshirt sophomore Michael Hoover not only recorded his first career reception, but also his first touchdown on a 12-yard grab thrown by Mitchell.
Redshirt sophomore linebacker Gunnar Scholato finished with 13 tackles, the fifth time to record double-digits this season.
Sophomore lineman Lloyd Tubman matched his career-best in tackles with nine, including three for losses.
Freshman defensive end Jaison Williams made six stops and also recovered a fumble forced by freshman Nick Putman.
The APSU defense held Mercer to 0-for-12 on third down.
The official attendance at Fortera Stadium was 6,506.
The two teams scored 21 points in 33 seconds in the fourth quarter. APSU scored 28 of the 42 fourth quarter points.
Quotes
Head Coach Will Healy's overall thoughts
"I think we made tremendous strides on the defensive side of the ball. We're still giving up big plays that are backbreakers. On offense, we didn't move the ball great in the first half, but we were unstoppable in the second. I want them to understand that when they execute well and play with supreme confidence, we're a really good football team. We just have to start faster than what we've done this year."
Head Coach Will Healy on Jared Beard's career night
"I think Jared is a very valuable weapon for us on the offensive side of the ball. I've been very impressed with how he has handled himself and the type of man he is becoming. He has bought into this team and what we want to do moving forward. He's a special talent."
Head Coach Will Healy on totaling 500 yards of offense
"Yardage doesn't matter to me if we lose a football game. I'm proud of our guys and the fight they showed, but I wanted a 'W' on the scoreboard."
Summary
1st quarter
MER 10:22 – The Bears opened the scoring with John Russ hitting Marquise Irvin over the middle for a 33-yard touchdown.
MER 2:43 – Russ then led a seven-play drive, resulting in a three-yard touchdown reception by Chandler Curtis.
2nd quarter
APSU 13:48 – Freshman running back Kentel Williams scored his first collegiate touchdown, a 26-run. APSU's two-point conversion try was no good.
MER 6:54 – Mercer's Cole Fisher converted on a 24-yard field goal attempt.
MER 0:38 – Before half, the Bears extended their lead with a six-yard run by CJ Kleckley.
3rd quarter
MER 5:56 – Fisher made his second field goal of the game, this one from 26 yards out.
4th quarter
APSU 11:33 – Another Gov recorded his first career touchdown, with Michael Hoover on the receiving end of a 12-yard pass from Mitchell.
MER 10:58 – Mercer's Kyle Trammell broke free on a 50-yard touchdown run.
APSU 6:17 – Williams continued his big night, rushing for a four-yard touchdown.
APSU 1:15 – The freshman tailback scored his third touchdown of the night, this one from one-yard out to cut the deficit to seven points.
MER 1:07 – On APSU's ensuing onside kick attempt, Curtis Chandler grabbed it and took it to the house for a 45-yard touchdown.
APSU 0:42 – The Govs again pulled within seven points as Marvin Franklin punched it in from four yards out.
What's Next
Austin Peay travels to Southeast Missouri next Saturday for the final road OVC contest of the season.
Fans can also follow all the action from the 2016-17 season on www.LetsGoPeay.com, on Twitter @LetsGoPeay & @AustinPeayFB and on Facebook at www.facebook.com/LetsGoPeay
Photo Gallery
Video
[youtube]https://www.youtube.com/watch?v=Ur4n83jLFF0[/youtube]