APSU Sports Information
Cape Girardeau, MO – Junior Ashley Slay had 22 kills and freshman Ginny Gerig finished with 29 digs to help Austin Peay State University's volleyball team fend off a stout Southeast Missouri challenge for a five set (25-23, 20-25, 28-30, 25-22, 15-8) Ohio Valley Conference victory, Saturday night, at Houck Field House.
Austin Peay (21-8, 10-2 OVC) trailed 2-1 after three sets and found itself trailing by four points, 21-17, late in the fourth set when head coach
Taylor Mott
called her final timeout of the frame.
After the team's traded points, sophomore Logan Carger started the Govs comeback with back-to-back kills to force the first Redhawks timeout at 22-20.
The stoppage did not have the desired effect as the Redhawks committed consecutive errors, the second forced by a block by sophomore Christina White. Southeast Missouri used its second timeout, attempting to stem the run.
Senior Sammie Ebright followed the stoppage with a kill the Carger and White posted a block to build a 24-22 lead. Southeast Missouri handed the Govs the set with a bad set.
The tiebreaker fifth set got started with the teams trading points, but White hit back-to-back kills to give the Govs a 5-2 lead. Carger blocked a Redhawks attack on the next rally for a 6-2 lead and forced a Southeast Missouri timeout. Out of the stoppage Carger posted a kill and Slay added a service ace to build an 8-2 lead at the crossover.
Southeast Missouri (4-22, 3-9 OVC) attempted to climb back into the contest, using three straight points to close within three points, 8-5.
But the Govs responded with the next three points to reestablish the six-point advantage. White would send the Govs to match point with a service ace and two rallies later, junior Kaitlyn Teeter ended the match with a kill.
The Redhawks could not capitalize on the momentum they gained after winning a wild third set that saw the teams trade the lead seven times and battle through 17 ties.
Five of those ties came in overtime, with Southeast Missouri also fending off two APSU set point chances. The Redhawks capitalized on their third set point chance courtesy an Austin Peay error.
Austin Peay required season highs in kills (76), assists (73) and digs (109) as well as its second-best blocking effort (11) to secure the victory.
The Governors 109-dig performance was its best since the 2008 season (111 vs. Murray State, October 3rd). It also was APSU's fourth double-digit block performance this season.
Gerig led the defensive effort with a career-high 29 digs – the best single-match performance since 2011 (33 by Paige Economos vs. Tennessee State, October 14th). She led a ground of five Governors who finished with double-digit dig totals.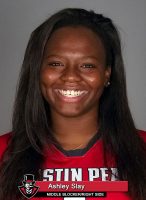 Slay's 22-kill performance was her second this season, matching her effort at SIU Edwardsville (October 8th). White finished with a career-high 19 kills, Teeter chipped in 16 kills while Carger had a season-best 11 kills.
Krissa Gearring led Southeast Missouri with an 18-kill performance. The Redhawks were held to 61 kills and a .192 attack percentage in the five-set affair.
Southeast Missouri also had an impressive defensive outing with 82 digs and eight blocks but could not keep pace with the Austin Peay effort.
Inside The Box Score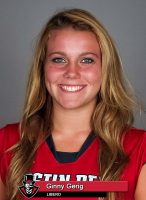 De-fense
Gerig's 29-kill performance led an impressive 109-dig team outing that helped Austin Peay stay in the match. Gerig's outing was the best by a Governor since Paige Economos' 33-dig effort against Tennessee State on October 14th, 2011. The Govs 109-dig outing was the best since a 111-dig outing against Murray State on October 3rd, 2008 – over eight years ago.
Another 22
Junior Ashley Slay powered her way to her second 22-kill performance this season. She had eight kills in the first set to set the tone then had five kills in an errorless fourth set. Slay's .447 attack percentage was her third straight .400-attack percentage outing.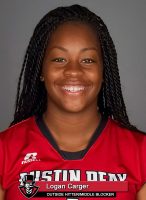 Carger's Big Night
Sophomore Logan Carger posted a season-best 11 kills at a .360 clip in the win. After a quiet start, she broke out with four kills in the third set before chipping in two kills in both the fourth and fifth sets. Carger's back-to-back kills late in the fourth set turned the tide in a close match.
A Bit of White Everywhere
Sophomore Christina White finished with 23 points thanks to doing a little bit of everything. She had a season-best 19 kills, but chipped in four blocks, a service ace and nine digs in a fine all round effort.
Ten OVC Wins
Saturday's victory also gave the Govs a 10-win OVC campaign, its first since 2012. It is Austin Peay's 10th 10-win OVC campaign all-time.
Austin Peay turns its attention to a pivotal 6:00pm, Wednesday contest at the Dunn Center against OVC-leading Murray State in the fourth meeting between the teams as part of The Battle of the Border presented by Heritage Bank. The Governors sit just one win behind the Racers with four OVC matches remaining.