Clarksville, TN – On Thursday morning, February 9th, at 10:50am, a crash that left traffic snarled on Riverside Drive at the North Second Street intersection will not be difficult to investigate because the nearest eyewitness was a Clarksville Police Department Traffic Unit officer.
"I was sitting right here at the red light and saw it happen," stated Officer Derrick Cronk.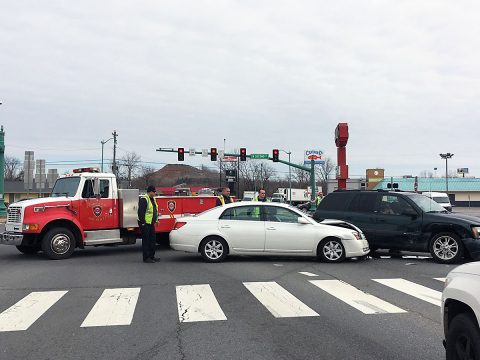 The two-vehicle collision involved a white four-door sedan and a dark green sports utility vehicle. Injuries were believed to be minor.
Lunch hour traffic on Riverside Drive backed up to McGregor Park. Cronk said citations would be issued because one of the drivers failed to yield the right of way and one or more children did not appear to have been in car seats.
The road was expected to be fully reopened by noon.