Montgomery County, TN – Students from the Transitions Program of the Clarksville-Montgomery County School System got to spend the day shadowing staff at Lowe's on Lowe's Drive, learning how to perform various roles at the home improvement store.
"The Transitions Program works to prepare students for competitive, paid employment after high school," stated Cassie Allen, CMCSS Transition Coordinator of Special Populations.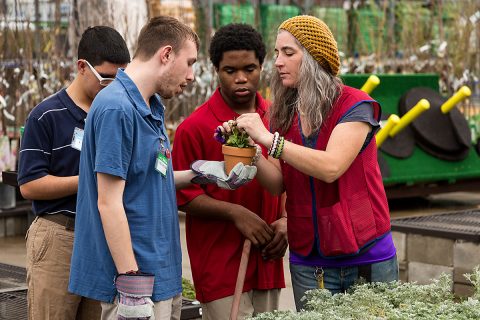 "Our students are given hands-on experiences along with job and academic instruction to allow them to explore different work experiences to determine what is the best fit for them in their futures," Allen said.
At Diversity Day recently, students were assigned teams and rotated around stations learning different facets of working at Lowe's. Staff taught students how to operate cash registers, mix paint, care for plants, keep customers safe, and reduce inventory loss.
"Shadowing the Lowe's employees gave our students a first-hand look at a real-world work environment," according to Allen.
Diversity Day was developed as a partnership between Lowe's and the CMCSS Transitions Program.
"Working and partnering with the community has always been a passion of mine," stated Mariah Cary, Lowe's of Clarksville Human Resource Manager. "When I first spoke with Cassie about the Special Populations Department and met some of the students, I knew I absolutely had to have them come to our store."
"This day was one of the most impactful events I have ever done. To see the pure joy and eagerness to learn on the students faces and the leadership initiative from our employees, made me heart so full," stated Cary.
"Partnering with businesses allows the businesses to see the rigorous preparation our Transition students go through in order to be prepared for employment," stated Allen. "We want to thank Lowe's for the opportunity to allow our students to shadow their workers for the day. The students gained valuable insight on how day-to-day operations work at a major retail chain."
"This is a partnership I hope to continue in the future, and I really hope to have some of the interns and students on board with us at Lowe's store 0498," Cary said about Diversity Day.
"This has been an amazing experience for our students and our transition team," Taylia Griffith, CMCSS Director of Special Populations stated. "We are so thankful for the partnership that has blossomed between Lowe's and our Special Populations programs."
"We strongly believe in our students' abilities, and Lowe's is proof that our community supports that belief. We sincerely thank the Lowe's team for sharing the vision we have for our students," Griffith stated.