"Planters Bank Presents…" Film Series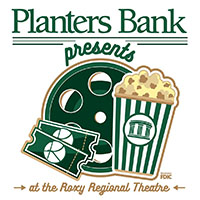 Clarksville, TN – The "Planters Bank Presents…" film series next movie is Orson Welles' "Citizen Kane". This movie will be shown this Sunday, March 19th, 2017 at the Roxy Regional Theatre at 2:00pm.
Following the death of publishing tycoon Charles Foster Kane, news reporters scramble to discover the meaning of his final utterance. This ground-breaking drama, loosely based on the life of William Randolph Hearst, is frequently cited as the finest American film ever made.
Admission to each film in the "Planters Bank Presents…" series is $5.00 (cash or check only). Tickets are on sale now at the Roxy Regional Theatre box office. Any remaining tickets will be available at the door one hour prior to showtime.
Normal box office hours are 9:00am-2:00pm, Monday through Friday.
Popcorn and bottled water will be available as concessions.
This film series at the Roxy Regional Theatre is made possible by the generous support of Planters Bank and the Clarksville-Montgomery County Arts & Heritage Development Council.
The Roxy Regional Theatre is located at 100 Franklin Street in Clarksville, TN.