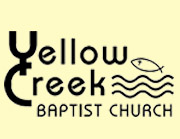 Cumberland City, TN – The weather was just perfect Saturday, April 15th, 2017 for the Yellow Creek Baptist Church annual Community Easter Egg Hunt. 326 kids along with over 600 adults came out for the event.
"It a beautiful day and I am very thankful for everybody coming out," said Brother Phillip Chambers, Senior Pastor. "It was a fun time doing this for everyone."
The egg hunt was divided into three parts, Pre-K, K-2nd grade and 3rd-5th grade. 11,000 eggs were scattered between the three fields.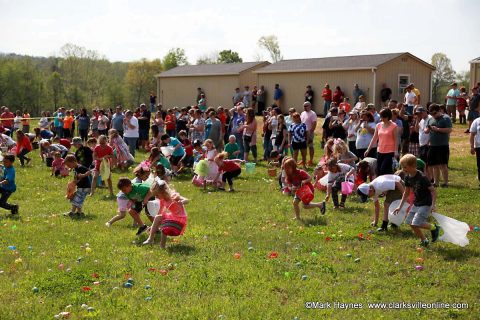 There were 240 door prize tickets in each section. Each child got a ticket when they arrived so everyone had a chance for a prize.
"We appreciate all the volunteers at Yellow Creek that put this one. It's unbelievable how many man hours it takes to stuff 11,000 eggs, hide the eggs, and the setup," commented Chambers.
Once everyone was ready, the signal was given and the kids ran out onto the field gathering eggs. In just a few minutes, all the fields were cleared and the children began opening their eggs.
"I thought the event was wonderful," stated Chastity Greene. "I think Yellow Creek putting this on is great for the community."
After all the eggs had been opened, it was time for the tickets to be drawn to see who was lucky enough to win a price.
The prizes included bicycles, scooters, skateboards, big wheels, Easter baskets and egg decorating kits.
The smiles on everyone's faces let you know that they had a good time at the event. This is really a great event for the community.
"It's a good event for the family. It helps to get families familiar with the church," Amanda Tarver said.
"Yellow Creek puts this event to give the community a safe place to hunt. Where they can come and not worry about their kids getting run over and not worried about bad candy or anything like that," Chambers stated.
"We appreciate all the support we get from everyone that comes every year. As long as people keep coming, we will keep doing it," said Chambers. "I want everyone to know that they are always welcome to worship with us at Yellow Creek."
Photo Gallery
About Yellow Creek Baptist Church
Yellow Creek Baptist Church envisions a church that makes a difference in the lives of people in our ministry area and throughout the world.
Services are Sundays at 8:30am and another at 11:00am. They are identical services, same sermon, same music, same everything. Sunday School is at 10:00am.
On Wednesday night, they eat supper together at 5:45pm. It's free. It doesn't cost anything. Then they have team kid for their pre-k and elementary school ages. They have youth group for Middle and High Schoolers. For the adults, they have a class in the sanctuary.
Everyone is welcome to come worship with them, come as you are. Pastor Phillip Chambers will probably be the only guy in the room with a tie on. You can wear whatever you want to wear. They just want you to come join them.
Yellow Creek Baptist Church is located at 4506 Ellis Mills Road, Cumberland City, TN.
For more information call 931.289.2901 or visit www.yellowcreekbaptistchurch.com