Clarksville, TN – On Wednesday, June 7th, 2017 around 1:05am, Clarksville Police responded to a 911 call about a car in the Cumberland River at Trice Landing Park, 99 Oak Street.
A man had called 911 after he had a conversation with Robert Johnson, 47 at a Exxon HiRoad Gas Station, Dover Crossing. Robert Johnson had told the man he had drove a car into the river.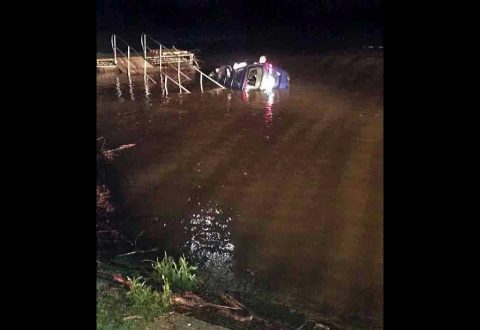 The man went to Trice's Landing and found a 2009 Dodge Journey in the water turned on its side. He did not know if anyone was in it and called 911.
Officers arrived and went into the water to see if anyone was in the vehicle; it was unoccupied.
Officers spoke to the Robert Johnson who told them he thought he was driving across an underwater bridge, but realized too late that it wasn't and drove off the side.
He abandoned the vehicle and went to find someone with a phone to call for assistance. He walked to about a mile and a half and that's when he spoke to the man who called 911.
The vehicle was pulled out of the water by a tow truck.
No charges will be filed.