APSU Sports Information

Evansville, IL – The lights were bright and the microphones were hot, as head coach David Midlick prepared to kick off his third season as the Governors women's basketball head coach with the Ohio Valley Conference Media Day.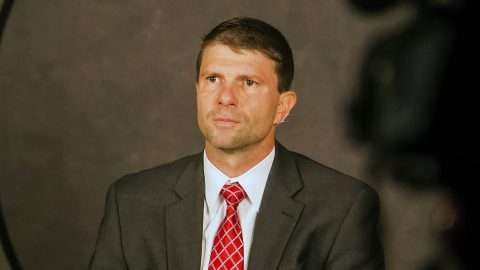 The event took place in the newly-completed Evansville DoubleTree, a stone's throw from the Ford Center—site of this season's Ohio Valley Conference Basketball Tournament. After getting three weeks of practice in Midlick is excited about the team's progress, but is taking this season in stride, one day at a time.
"Our focus is on getting better today, getting better tomorrow," said Midlick. "We have to be ready to play November 11th and we definitely want to be playing our best basketball when conference season rolls around."
The Governors were picked to finish sixth in the preseason poll, with Midlick returning three starters, and seven players overall, while adding nine talented players to the roster. As players continue, to build on-court chemistry, Midlick and his staff continually stress the importance of giving 100 percent effort.
"I am looking for us to see how hard we want to compete on every possession." Midlick said. "Teams are too good, and you can't take any possession off, and we have to be aggressive on both ends of the floor."
For a full timeline and highlights of the event, check out @AustinPeayWBB on Twitter.
Season tickets are now on sale for the 2017-18 season. Reserve your seats for all 32 home contests (15 for the women's squad) by calling 931.221.PEAY (7329) or email .