Clarksville, TN – The Customs House Museum and Cultural Center is featuring the mixed media art of Sloane Bibb in the exhibition Storied Elements.
The walls of the Crouch Gallery are a dreamland of wonders such as chickens in heels, women in dresses filled with flowers and birds, and a Bell jar of butterflies.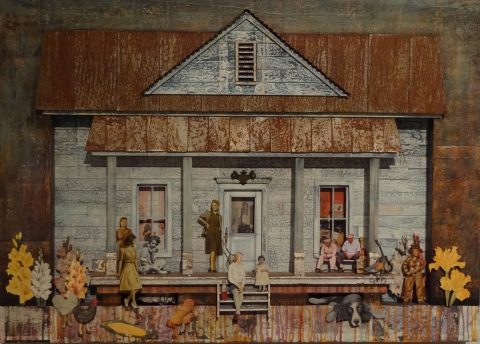 The easy-going artist from Alabama captivates the viewer with his assemblages that offer a sense of Americana within their whimsy.
After receiving a BFA from Auburn University, Sloane Bibb spent twelve years in advertising and design field before concentrating on his art. Part painting, part assemblage, part cultural tableau, Sloane's work is a melding of wood, metal, paper, canvas, and even found objects, tar, and wax.
Simple motifs, including nature and the female form, stand in measured contrast to the quirky compositions, pointed imagery and high-low mix of materials. The finished work is a multi-layered story.
The artist, who professes a love of everything about old 1940's and 50's advertisements, such as the type, style and design, says of his work: "I began doing this particular style on canvas, using mainly paint, old paper and beeswax. However, the glue made the canvases torque and bend, so I moved to wood. With the wood canvases, I was able to incorporate metal and found objects, and with these elements my work increasingly became more 3D. I layer the paintings beginning with paper, then paint. I then add a layer of beeswax that is sanded or scraped back as well. Then, I add my secret ingredient–tar. As far as the imagery/theme goes, I know what the main element will be when I start, but as I flip through old magazines and catalogs the story grows and usually changes. I try to put things together that don't go together or are just comical together."
Sloane Bibb is represented by galleries throughout the South including The Copper Fox, Leipers Fork, TN; Gallery Seventeen, Greenville, SC; Kathleen's, Decatur, AL; L Ross Gallery, Memphis, TN; and Lakind Fine Art, Santa Fe, NM.
The exhibition Sloane Bibb: Storied Elements will be on view through February 28th.
For more information on above exhibition contact Terri Jordan, Curator of Exhibits, at 931.648.5780 or
About the Customs House Museum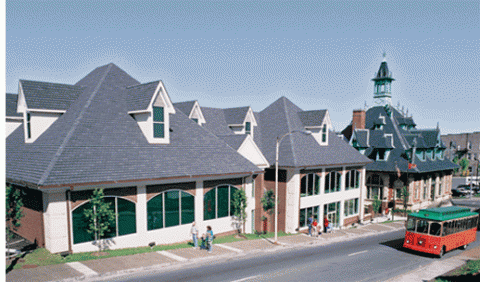 Located in the heart of historic downtown Clarksville, Tennessee, the Customs House Museum and Cultural Center is the State's second largest general museum. The original portion of the building was constructed in 1898 as a U.S. Post Office and Customs House for the flourishing tobacco trade. Incorporating a number of architectural styles, the original structure is one of the most photographed buildings in the region.
With over 35,000 square feet of the region's best hands-on activities and special events…people of all ages agree – the Customs House Museum is well worth the stop!
The Explorer's Gallery is packed with fun, learning and fantasy in Aunt Alice's Attic, McGregor's Market and kitchen, and of course – the Bubble Cave! Finally, get "all aboard" to see our fantastic model trains. Our volunteer engineers "ride the rails" every Sunday afternoon from 1:00pm to 4:00pm.
Regular museum hours are 10:00am to 5:00pm Tuesday through Saturday, and 1:00pm to 5:00pm on Sundays. Adult admission is $7.00, Senior Citizens and College ID $5.00, Ages 6 to 18 $3.00, and under six years and Museum members are free.
The Customs House Museum is located at 200 South Second Street. For more information, call 931.648.5780 or visit their website at www.customshousemuseum.org