Clarksville, TN – In the late 1940s, shortly after World War II, American comic books took on the daring subject of love. Jack Kirby, co-creator of Captain America, helped popularize these soap opera-like tales with his comic "Young Romance."
The brightly colored covers—which would later inspire Roy Lichtenstein's pop art creations—featured couples embracing or kissing, often with someone crying in the background.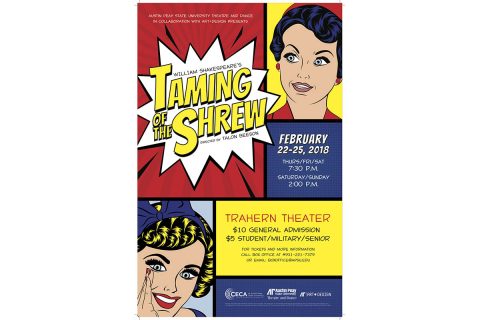 For Talon Beeson, Austin Peay State University assistant professor of acting and directing, these emotionally charged comics brought to mind another author of antic love stories—William Shakespeare.
This February, Beeson is bringing the bard's comedy "The Taming of the Shrew" to campus, and the new production will have a distinct comic book feel.
"I'm placing it entirely in a Roy Lichtenstein/Jack Kirby word, where it's all pop art," Beeson said. "Everyone will be dressed in that style, with makeup that makes them look like pop art illustrations."
The play runs from February 22nd-25th in the APSU Trahern Theater, with performances at 7:30pm that Thursday, Friday and Saturday, and matinee performances at 2:00pm that Saturday and Sunday. Tickets are $10.00 for general admission and $5.00 for students, military and senior citizens.
The play, about the wanted and unwanted romantic entanglements of two sisters, has been accused in recent years of being chauvinistic, but Beeson believes this is a misrepresentation of the popular work.
"My interpretation of 'The Taming of the Shrew' has always been that it's a feminist play," he said. "There's a framing device, in the original folio edition of the play, and I've always thought it changes the entire slant of the play from anti-feminist to feminist."
This framing device, know as the induction, is often omitted from modern productions of the play. In the opening scenes of the induction, a drunk is kicked out of a bar and ends up passed out on the street. An aristocrat, disgusted by the intoxicated man, decides to play a trick on him, and after the man wakes up, he is made to watch a play—what most audiences know as "The Taming of the Shrew."
Beeson wanted to include these induction scenes in his production, but he also wanted to find an innovative way to incorporate his pop art concept. That led him to Scott Raymond, APSU assistant professor of animation.
"If this is a comic book that takes place in a comic world, how do I do the opening and closing scenes?" Beeson asked. "I have them animated."
The APSU production will begin and end with a motion comic projected onto a screen on stage. These moving images will cover the induction scenes, with the screen eventually giving way to the actual live-action play.
The cast for this new production includes APSU students Zac Collum, Briana Finley, Briar Moroschak, Bret Carson, William Neblett, Tim Fearn, Aly Pace, Christian Sinclair, Katie Krantz, Brenna Greene, Lexi Putter, Jesse Adair, Quinton Tolbert, Alex Thomas, Madison Courrege and Treston Henderson.
For tickets or information, contact the Trahern Box Office at 931.221.7379 or boxoffice@apsu.edu.