Written by Curtis Johnson
Tennessee State Representative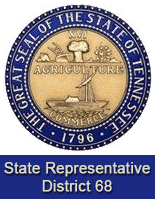 Nashville, TN -The House Finance, Ways, and Means Committee will begin their annual Budget hearings on Monday, February 12th. 2018. One of the first groups that is scheduled is Higher Education with Mr. Mike Krause testifying on behalf of the Tennessee Higher Education Commission.
Also scheduled to testify is Dr. Alisa White, President of Austin Peay State University.
The Tennessee Stolen Valor Act
The Tennessee Stolen Valor Act, House Bill 1779, makes impersonating a military veteran an offense and would be punished as a theft and graded as a misdemeanor or felony depending on the value of the money or property fraudulently obtained.
Representative Tilman Goins, the sponsor, told the story of a constituent in his district who completely fabricated his military service history in order to receive free services and eventually stole thousands of dollars from an AMVETS post in Morristown, Tennessee.
(AMVETS is a national veteran's services organization chartered by Congress that helps members find jobs, file VA claims, and obtain scholarships and transition post-deployment.)
The man told people in the community that former first lady Laura Bush had presented him with a bloody flag that belonged to one of the man's fallen comrades in Afghanistan. He doctored his father's military discharge papers to pass as his own. He became active in AMVETS, eventually managing to get on the organization's board where he stole more than $10,000 from the group.
Other than the theft, theirs is no additional punishment for offenders who use false military service stories to scam the unsuspecting organizations and veterans groups. Any fines collected from this act would go to Veterans Homes.
The bill passed the House Criminal Practices Subcommittee and will be heard by the full committee next week.
Veterans Day on the Hill
Last Wednesday, it was an honor and privilege to have veterans join us for Veterans Day on the Hill. Over 50 veterans participated in this annual event. Also this week, the Vietnam Veterans of America Chapter 953 displayed the Tennessee Vietnam Veterans Memorial Wall at the Capitol.
Monday night, the House of Representatives hosted members of the Vietnam Veterans of America (VVA), Chapter 995 from Jackson, Tennessee.
During their visit to the House chamber, VVA members conducted the 13 Folds of the U.S. Flag Ceremony — a flag folding ceremony performed at funeral services of the men and women who have served our country. They also played Taps, which is a bugle call played at dusk, during flag ceremonies, and at military funerals by members of the United States armed forces.
The VVA was originally created to serve Vietnam veterans. They now preside at any funeral service involving our nation's heroes, offering their skills to families who have lost loved ones and who desire to have their loved one buried with full military honors.
At the event, House Republicans expressed their gratitude to the VVA, along with all of the organizations across the state that support Tennessee military families.
For more information about VVA Chapter 995, please click here.
House Education Administration and Planning Committee
Committee Approves Bill For Students Who Suffer Dependency On Alcohol Or Drugs Greater Opportunities To Succeed
The House Education Administration and Planning Committee approved major legislation this week which authorizes Local Education Agencies (LEA) to create recovery high schools for certain students with alcohol or drug abuse dependency like Substance Use Disorder (SUD) or Major Depressive Episode (MDE).
House Bill 1460 authorizes LEAs that open recovery schools to enroll eligible students, including those who are in another county.
The bill authorizes the State Board of Education to promulgate additional rules and policies in consultation with the Department of Education, the Department of Health, and the Department of Mental Health and Substance Abuse Services to ensure best practices are employed as schools are authorized.
The staff of recovery high schools most often includes administrative staff, teachers, substance abuse counselors, and mental health professionals, with each playing a critical role in supporting their students. It will also allow LEAs to collaborate with other school districts to establish a school to serve their students.
Introduction into a recovery high school would be voluntary under the bill. Students who graduate from the recovery school would receive a diploma from the high school they attended prior to enrollment to lessen the possibility of a stigma being attached. Grades earned would also be transferrable to other high schools.
Research shows students who attend treatment and go back into their normal high school have about a 70 percent chance of relapse. That number drops to approximately 30 percent when the student attends a recovery school after treatment.
In addition, a recovery school in Houston, Texas found that about 98 percent of the students who attended had planned to drop out of school due to their addiction. After attending a recovery school, 90 percent of the students graduated, and over 80 percent went on to seek a post-secondary degree.
The bill now goes to the House Government Operations Committee for their consideration.
Contact Information
Rep. Curtis Johnson
606 Cordell Hull Building
Nashville, TN 37243
615.741.4341
For more information about the Tennessee General Assembly, check our website at www.capitol.tn.gov