Topic: Tennessee Capitol
Written by Curtis Johnson
Tennessee State Representative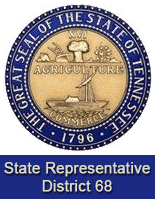 Nashville, TN – Tennessee Governor Bill Haslam announced that the application process is open for adults to enroll tuition-free this fall at a community or technical college through Tennessee Reconnect.
Tennessee Reconnect builds off the groundbreaking Tennessee Promise program, which provides high school graduates two years of tuition-free community or technical college, by establishing a last-dollar scholarship for adults to earn an associate degree or technical certificate free of tuition or mandatory fees.
By 2025, at least half the jobs in our state will require a college degree or certificate. Tennessee will lead in creating highly-skilled jobs if we make sure that Tennesseans are ready for those jobs, and there is no smarter investment than increasing access to high quality education.
«Read the rest of this article»
Written by Curtis Johnson
Tennessee State Representative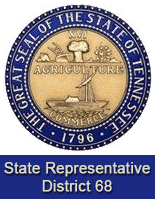 Nashville, TN -The House Finance, Ways, and Means Committee will begin their annual Budget hearings on Monday, February 12th. 2018. One of the first groups that is scheduled is Higher Education with Mr. Mike Krause testifying on behalf of the Tennessee Higher Education Commission.
Also scheduled to testify is Dr. Alisa White, President of Austin Peay State University.
The Tennessee Stolen Valor Act
The Tennessee Stolen Valor Act, House Bill 1779, makes impersonating a military veteran an offense and would be punished as a theft and graded as a misdemeanor or felony depending on the value of the money or property fraudulently obtained.
«Read the rest of this article»
McMillan: 'City must take a leading role in regional planning'
Clarksville, TN – Clarksville Mayor Kim McMillan has been elected to a third term as chair of the Regional Transit Authority Board of Directors.
Wilson County Mayor Randall Hutto was elected vice chair and Paula Mansfield, a governor's appointee from Rutherford County, was elected secretary for 2017.
The RTA board, created in 1988 to plan and develop a regional transit system, consists of city and county mayors and community leaders from the nine-county Middle Tennessee region.
«Read the rest of this article»
Nashville, TN – On Tuesday, January 10th, 2017, the House and Senate of the Tennessee General Assembly met in organizational session to start the 110th General Assembly.
The First Order of Business was the swearing in of all newly elected members of the General Assembly.
«Read the rest of this article»
Clarksville, TN – Clarksville Mayor Kim McMillan met Thursday with members of the Captain William Edmiston Chapter of the Daughters of the American Revolution to proclaim Constitution Week in Clarksville.
The United States Constitution stands as this country's enduring governmental roadmap and a testament to the tenacity of Americans throughout history to maintain their liberties, freedoms and inalienable rights.
«Read the rest of this article»
First stop in Memphis; continues practice of seeking educator feedback
Nashville, TN – Tennessee Governor Bill Haslam today announced he will visit members of his Teacher Cabinet in their schools this school year as he continues to keep the lines of communication open between classrooms and the Capitol.
In previous years Haslam has traveled the state to sit down and hear from educators across Tennessee.
«Read the rest of this article»

Clarksville, TN – Clarksville Mayor Kim McMillan and two other women mayors who lead major cities in Tennessee were among a group of dignitaries who spoke Friday at a ceremony to unveil the Tennessee Woman Suffrage Monument.
Fittingly, the statue was shown to the world on Women's Equality Day, the 96th anniversary of the date the Tennessee House voted 49-48 to ratify the 19th Amendment, ensuring passage of the measure granting American women the right to vote.
«Read the rest of this article»