Written by Joe Pitts
Tennessee State Representative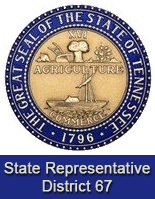 Nashville, TN – The Bounty Hunter Bill House Bill 2007/Senate Bill 2676 (Sen. Paul Bailey (R-Sparta) will be heard in the House Criminal Sub Committee on Tuesday, February 13th.
This legislation was filed after a tragic event in Clarksville where bounty hunters chased a vehicle through the streets of Clarksville at a very high rate of speed and a father of 3 was ultimately shot and killed. This victim was an innocent man, unnecessarily killed due to the gross negligence of persons acting as bounty hunters.
Property Tax Relief

Property Tax Relief for disabled Veterans, disabled persons and elderly low-income homeowners
House Bill 1496/Senate Bill 1675 (Sen. Mark Green, R-Clarksville) was heard in the House Local Government Sub Committee on Wednesday, February 7th and passed unanimously by voice vote. This legislation corrects a rule change made by the Comptroller's office in October, 2017 which in effect would have caused individuals to lose their tax relief if the veteran, low-income elderly, and disabled persons who qualified for the relief were admitted to a nursing home for an indeterminate amount of time.
"If this legislation passes the law will revert to the same language as it has been for years," Pitts said. The bill is scheduled to be heard in the House Local Government Full Committee on Tuesday February 13th. It is also scheduled to be heard in the Senate State and Local Committee on February 13th.
Credit Report Freeze
House Bill 1486/Senate Bill 2470 (Sen. Kerry Roberts, R-Springfield) will be heard on Wednesday, February 14th in the Consumer and Human Resources Subcommittee. "I met with representatives of the credit bureau association this week and they agreed to amend the bill to remove all charges for any reason if a person wants to freeze or unfreeze their credit report," Pitts said. "This was welcome news and now this legislation will benefit all Tennesseans, not just people that had their personal information compromised."
School Social Worker Bill
House Bill 2272/Senate Bill 2196 (Art Swann, R-Maryville) was filed in an attempt to provide licensed school social workers in each school in the State of Tennessee. "Suicide is the 2nd leading cause of death in young people ages 10-19 in Tennessee, and students are bringing emotional stress to school every day," Pitts said. "Social Work professionals can work hand in glove with school nurses and guidance counselors to address bullying, addiction to opioids, alcohol, and other emotional issues faced by our students."
Visitors to the Hill
Veterans from across the State descended on Capitol Hill this week for their annual Veterans Day on the Hill. Not only did they discuss issues with their elected officials, some veterans attended the Local Government Sub Committee to support House Bill 1496. Sub Committee chairman, Dale Carr (R-Sevierville) asked the committee members and the audience to honor and thank the veterans with a standing ovation.
In the next legislative update, we will share more of the legislation sponsored by Rep. Pitts and other members of the Tennessee General Assembly, and provide weekly updates about the progress of these issues.
If you have questions about the above or other issues of concern, please call me at 615.741.2043, or email me at rep.joe.pitts@capitol.tn.gov