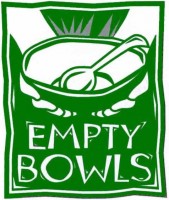 Clarksville, TN – Hundreds participated in the 10th annual Empty Bowls Clarksville Tuesday, with volunteers at eight local churches serving meals to raise money and awareness for area residents dealing with food insecurities.
This year's theme; Hope, Not Hunger, will raise tens of thousands of dollars for Loaves & Fishes, and Urban Ministries Food Pantry, local agencies that provide thousands of meals each year for those in need in our community.
Brenda Harper is one of the Empty Bowls volunteers who worked the event at Immaculate Conception Catholic Church.
"We have 350 tickets for this location, and we are pretty much sold out," Harper said. "Not everyone who bought a ticket will show up, so we have some capacity to serve walk-ins, but we can't do too many because we never want to run out of bowls or food."
In all, about 1,500 tickets were sold for the multi-location event which essentially culminates a year-long fundraising effort. The way it works, raw materials to make the bowls are donated. People paint the bowls throughout the year, and then donate them to the cause. On the day of the event, ticket holders get to select their favorite hand-painted ceramic bowl to take home, and enjoy a meal of soup, bread and dessert.
"In addition to the ticket sales we get sponsorships from mostly businesses, but some individuals," Harper said. "We get donations of $250.00, $500.00 or even $1,000, and that makes a big impact way beyond the funds we raise from ticket sales."
Harper gave thanks, once again, to APSU's Culinary Arts Program, who did all the food preparation and serving. And to the committee at Immaculate Conception Catholic church who raised the money to purchase all the ingredients.
"Volunteers do all the work and everything else is donated, the bowls the food, advertising, printing, everything. Virtually all the money we raise goes 50/50 to Urban Ministries, and Loaves & Fishes."
Photo Gallery