Tennessee Athletics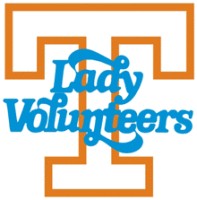 Nashville, TN – Rennia Davis knocked down a three-point shot with .5 seconds remaining to give No. 12 Tennessee a 64-61 victory over Auburn Thursday night at Bridgestone Arena and advance the Lady Vols to the quarterfinals of the SEC Tournament.
Jaime Nared led UT in scoring with 17. Mercedes Russell had 12 points and 15 rebounds to record her 45th career double-double, tying Candace Parker for the second most career double-doubles in Tennessee history behind only Chamique Holdsclaw. She went 10-of-10 from the free throw line, setting a new career high in free throws made.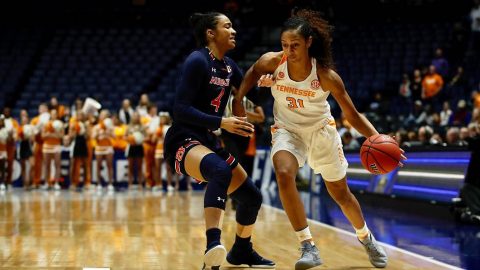 Davis and Meme Jackson also scored in double figures for Tennessee (24-6) with 16 and 10, respectively.
Auburn (14-15) was led in scoring by Janiah McKay with 24. Daisa Alexander added 16 for the Tigers.
It was a hard-played contest, with both teams running a full-court press for much of the game, leading to a combined 39 turnovers, 14 ties and 15 lead changes.
Tennessee employed a balanced attack against Auburn, with all five starters contributing a bucket to the team's first ten points. Neither team could pull away in the opening minutes and the score was knotted at 10-10 with four minutes to play in the quarter. Following the media break, Auburn took a 13-10 lead, but Meme Jackson answered with a three to knot the score at 13-all. The teams continued to trade buckets through the end of the quarter with Auburn managing an 18-16 lead at the end of the first.
Following the quarter break, Nared knocked down two free throws to tie the score at 18, and Anastasia Hayes followed it up with a three to give Tennessee the lead at 21-18. Auburn battled back, however, scoring on back-to-back possessions to reclaim the lead at 22-21 with 7:12 to play in the half. Tennessee answered with an 8-0 run, stretching its lead to 29-22 by the 5:35 mark. Auburn again fought its way back, tying the score at 35-all before Auburn knocked down a long-range three at the buzzer to take a 38-35 lead into the break.
Tennessee started the third quarter by forcing a turnover and finding Jackson on the fast break for two quick points. Both teams continued to struggle with turnovers in the second half, combining for seven in the opening five minutes of the third period. At the media timeout the score was knotted at 45-all. Davis scored back-to-back layups to close the quarter for the Lady Vols, giving them a 49-47 lead heading into the fourth.
The Tigers evened the score on their first possession, but Tennessee launched a 6-0 run led by two Hayes layups to take a 55-49 lead with 8:16 to play. Auburn answered with a 5-0 run of its own. With 2:25 to go McKay converted on a three-point play for Auburn to give them the lead at 59-58.
Tennessee jumped out to a 61-59 lead with just over a minute to play, but Alexander hit a layup off a fast break to tie the game with 13 seconds left. Tennessee then drove down the court and found Davis behind the arc. She converted on the bank shot to give the Lady Vols a 64-61 win and move them into the quarterfinal round, where they'll meet No. 2 seed South Carolina on Friday at 6:00pm CT (7:00pm ET).
Third Quarter Lockdown
The Lady Vols held Auburn to just nine points in the third quarter, making this the third straight game in which they've held an opponent to single digits points in the third period. They limited Florida to two points and South Carolina to nine.
Fine From The Line
Tennessee shot 80 percent from the free-throw line against Auburn, hitting 20-of-24 free throws on the night. Russell hit half of those, going a perfect 10-of-10 and setting a new career high in free throws made.
Davis Making Her Mark
Davis has reached double figures in 12 of her past 15 games and has eight double-doubles on the season, the sixth most ever recorded by a Lady Vol freshman. She's also averaging 7.5 rebounds per game which is good enough for sixth all-time by a Lady Vol freshman.
Up Next for UT Women's Basketball

Tennessee will face South Carolina (23-6, 12-4 SEC) in the quarterfinals of the SEC Tournament at 6:00pm CT/7:00pm ET on Friday in Bridgestone Arena.