Arts for Hearts Clarksville
Clarksville, TN – Arts for Hearts Clarksville, a program under the Clarksville-Montgomery County Arts and Heritage Development Council is using art to help build community connections.
Over the past two years volunteers have hosted more than 200 free art events throughout the community, including Fort Campbell and Gilda's House in Nashville Tennessee. People of all ages come together with volunteers to explore and create art.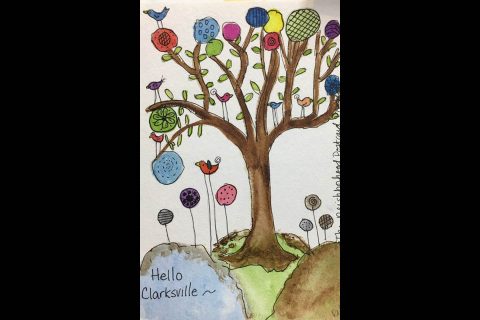 Arts for Hearts Clarksville's newest project" Hello Clarksville-The Neighborhood Postcard project" kicks off at the Downtown Commons, 215 Legion Street on November 6th, 2018 from 5:00pm-7:00 pm.
The event is free and open to the public. Participants will create hand crafted postcards with positive messages that will be mailed to random people in our community. Each postcard is a small piece of art to be shared with a neighbor.
"We all have gifts to share that help make our community and world a better place—and through art we not only enrich our own lives but we enrich the lives of those around us- art brings people together and it fosters a sense of community", said Rita Arancibia, Co-Founder of the Arts for Hearts Clarksville Program.
The Post Card Project hopes to build stronger community connections with a simple postcard.
For more information about Arts for Hearts Clarksville or the Hello Clarksville-The Neighborhood Postcard Project call 931.237.7647.
www.artsforheartsclarksville@gmail.com
www.facebook.com/groups/HelloClarksvilleneighborhoodpostcardproject