APSU Sports Information

Montego Bay, Jamaica – It's been a beautiful stay for the Austin Peay State University (APSU) men's basketball team in Montego Bay, Jamaica.
But that won't make Sunday's 78-72 loss to Campbell sting any less. Despite a solid shooting effort and their typical trademark rebounding prowess, the Govs ran up against a high-scoring Campbell (3-2) duo to leave the Jamaican portion of the Jersey Mike's Jamaica Classic at 1-1.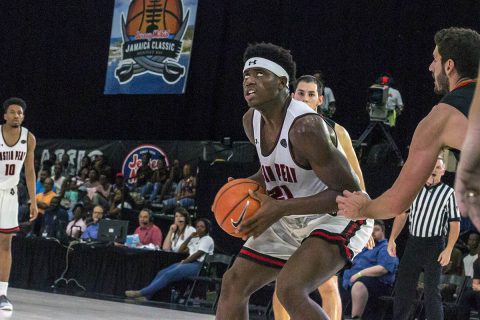 With an early 10-0 run that included two tip-ins by sophomore Terry Taylor, the Govs took a big swing early on the offensive end. They also kept Campbell's Chris Clemons, the nation's second-leading scorer, in check during the opening moments, holding him to 1-for-5 shooting to start.
That would not be sustainable. As Clemons heated up, the Governors suddenly had to contend not only with him but with Cory Gensler who came in averaging 7.1 ppg but scored 12 in the first half. He stretched the Campbell lead to six with a three-pointer at the three-minute mark but neither team would lead by more than that in a back-and-forth first-half. A pair of late buckets by Ivan Cucak would help Austin Peay (2-3) close it to a four-point deficit at the break.
Despite trailing, Austin Peay had plenty to feel good about at halftime. The Govs hit nearly 54 percent (15-for-28) from the floor and advantages in both rebounds (19-13) and points in the paint (22-14), but Campbell had turned 11 Austin Peay turnovers into 15 points.
The Govs would take a quick lead to start the second half on a Jarrett Givens three and a jumper from Steve Harris, extending it to a three-point advantage after a Zach Glotta three. But Clemons and Gensler spearheaded a 13-2 Campbell run to take the lead for good—in fact, Clemons and Gensler were the entirety of the Campbell offense in the second half, with no other Fighting Camel hitting a shot from the floor until the 3:33 mark.
Austin Peay's deficit hovered between five and eight points for much of the half before the Govs made a late run, cutting the deficit to three on multiple occasions. Each time, the Fighting Camels had an answer, the last a Trey Spencer three with 22 seconds left after an old-fashioned three-point play by Austin Peay's Dayton Gumm.
The Difference
It wasn't so much the turnovers—Austin Peay committed 18, to Campbell's 15—but the capitalization. Where the Govs turned the Fighting Camels turnovers into just 13 points, Campbell was able to wring 24 points out of Austin Peay's miscues.
APSU Notably
Cucak scored 10 points, his first career game in double figures, and also led the Govs in assists for the first time in his career with three. He set or tied career-highs in single-game points, rebounds, field goals made and assists.
Glotta extended his consecutive made free-throws streak to 14. The Govs went 8-for-8 from the charity stripe, believed to be their first perfect showing at the line since 1999-00 (against Belmont). As a group, the Govs are hitting 90.0 percent (53-of-63) at the line their last three games.
Campbell collected just 25 rebounds, fewest by an Austin Peay opponent this season.
With 17 points and 10 rebounds, Taylor made it four double-doubles in five games. It marked the fourth time this season and 15th in his career he's led the Govs in scoring and 25th he's been Austin Peay's leader in rebounds. And for good measure, he equaled his career-high with three steals.
Harris finished with 13 points, his 10th career double-digit scoring outing.
Clemons (34 points) and Gensler (25) have the top two scoring totals against the Govs this season.
The loss is Austin Peay's first in a regular-season neutral site contest since 2015.
Thanks largely to Glotta (13 points), the Govs bench has outscored its opponents four times in five games this year.
Speaking of Glotta once again, he's reached double figures in three straight games for the second time in his career (February 15th-22nd, 2018).
The 12 fouls committed by Campbell were a season-low by an Austin Peay opponent.