Tennessee Department of Labor and Workforce Development

Nashville, TN – Tennessee Governor Bill Haslam and Tennessee Department of Labor and Workforce Development Commissioner Burns Phillips have released the statewide unemployment rate for October 2018 showing Tennessee's jobless rate was still near historic lows, despite a slight uptick.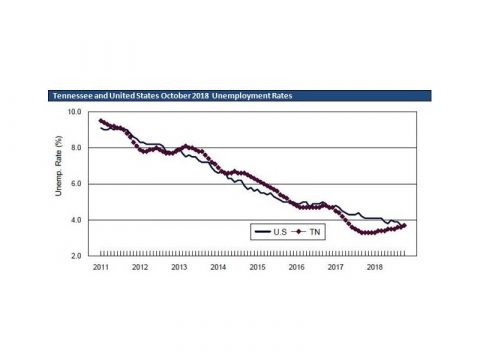 October's seasonally adjusted unemployment rate for October was 3.7 percent, 0.1 percent of a percentage point higher than the previous month. Tennessee's all-time low unemployment rate was 3.3 percent which the state recorded for five consecutive months between September 2017 and January 2018.
"Tennessee's low unemployment continues to prove how well the state's economy is performing," Haslam said. "The business-friendly environment we've created over the last eight years, plus our low taxes and skilled workforce make Tennessee a place where companies want to move or expand. Just this week, Amazon announced it is bringing 5,000 new jobs to Nashville, the largest job commitment in the history of the state."
Between September and October, Tennessee employers added 6,000 new nonfarm jobs, bringing the total number of new jobs created since October 2017 to more than 59,000. The trade/transportation/utilities sector saw the most growth in October with the addition of 2,400 new positions.
"Tennessee not only has a tremendously talented workforce, but it also attracts top-notch professionals who are more than willing to move to our great state for a job," Phillips said. "Employers know this and they are looking to Tennessee when they want to grow their companies."
Nationally, the seasonally adjusted unemployment rate for October held steady at 3.7 percent for the second consecutive month. That is 0.4 of a percentage point lower than the October 2017 national unemployment rate of 4.1 percent.
The statewide and national unemployment rates are seasonally adjusted to eliminate the influences of weather, holidays, the opening and closing of schools, and other recurring seasonal events from an economic time series.
Tennesseans looking to improve their employment situation can access the latest job openings, update their resumes, and sharpen their job interview skills by visiting the state's workforce development website.
A complete analysis of Tennessee's unemployment data for October 2018 can be found here.