Clarksville Police Department

Clarksville, TN – Around 6:37pm Thursday, December 6th, 2018 emergency responders were called to Cardinal Lane after a woman and baby fell through a storm grate according to Clarksville Police.
A woman was walking through a parking lot carrying her baby, walked across a storm grate and, for an unknown reason, it gave way. The woman and baby fell approximately 20 feet into the storm drain and came to rest at the bottom. The basin of the drain was dry.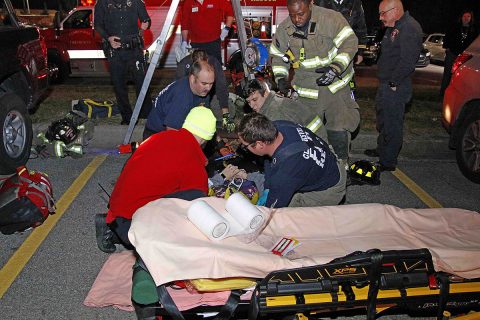 A passerby heard the baby crying in the drain, but could not see them due to the darkness and called 911.
Emergency responders arrived on scene and used a confined space protocol and made entry through another entrance into the drain and were able to safely extract the woman and baby around 7:15pm.
The woman was transported by Life Flight to a Nashville Hospital. The extent of her injuries are unknown, but she was conscious, talking and no visible signs of serious injury. The baby, under a year old, had an abrasion but did not appear to have any life-threatening injuries and was transported by ambulance to Tennova Healthcare.
There is no additional information available.
Photo Gallery