UT Athletics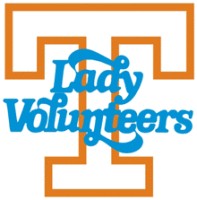 Knoxville, TN – Seven Lady Vols scored in double digits, fueling No. 10/10 Tennessee to a 98-77 victory over Murray State Friday night at Thompson-Boling Arena.
With a season-high crowd of 8,518 looking on, the Lady Vols (10-1) were led in scoring by Rennia Davis who posted her third double-double of the season with 20 points and 13 rebounds. Other UT players in double figures were Rae Burrell, Mimi Collins, and Meme Jackson with 11 points each, and Evina Westbrook, Jazmine Massengill and Cheridene Green with 10 apiece.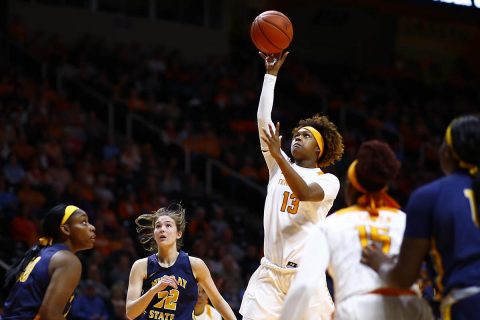 Tennessee out-rebounded the Racers (4-7), 56-24, including a 25-6 advantage on the offensive glass. The 56 rebounds were the second most recorded by the Lady Vols this season behind the 59 registered vs. Florida A&M.
Murray State was led in scoring by Evelyn Adebayo who had 28 on 10-of-19 shooting from the field and 7-of-7 marksmanship from the free throw line. Janika Griffith-Wallace, Brianna Crane, and Lex Mayes were also in double figures for the Racers with 14, 12 and 11, respectively.

The teams traded buckets in the game's opening minutes, but with just over two minutes left in the first quarter Burrell hit back-to-back baskets to extend Tennessee's lead to five points at 15-10. The Lady Vols went on to convert two steals into four points to take a 20-14 lead into the second stanza. UT dominated the glass in the first quarter, out-rebounding Murray State 20-6.

The Lady Vols started the second quarter with all four freshmen on the floor and went straight to work with Zaay Green and Massengill each scoring five points apiece by the 7:33 mark, extending UT's lead to 30-18. The Lady Vols played tough defense, snagging eight steals in the second quarter and pulling down 14 boards before taking a 46-29 lead into the break.

Cheridene Green got things rolling for Tennessee in the second half, scoring on UT's first two possessions. With 7:57 to play in the quarter, the Lady Vols began an 8-0 run to push the lead to 60-33 by the 6:56 mark. Tennessee had nine players score in the period en route to 35 total points, tying for the fourth most points scored in any quarter by the Lady Vols. At the end of the third, UT led the Racers 81-53.

Davis went on to score nine of Tennessee's 17 fourth-quarter points, as the Lady Vols cruised to a 98-77 win.
Deep Threats
The Lady Vols had six different players hit at least one 3-pointer, including Jazmine Massengill going two for two. Tennessee hit seven threes on the night, marking the fourth-straight game UT has hit at least seven treys.
Career Nights
Jazmine Massengill set career highs in points (10), assists (8) and 3-pointers made (2). Mimi Collins tied her career high of 11 points and recorded a new career high of three steals. Rae Burrell tied her career high of five field goals made and set a new career high of two assists.
Owning The Glass
Tennessee grabbed 20 rebounds in the first quarter alone (11 offensive/9 defensive) to Murray State's six, and went on to pull down 56 boards (25/31) vs. 24 for Murray State. The game told was the second best by the Lady Vols this season (59 vs. FAMU). UT held a 34-12 advantage on the glass in the first half, including a 16-1 edge on the offensive end.
Rennia Davis and Cheridene Green had six and five rebounds in the opening stanza, respectively, and finished with 13 and eight for the night.
PT For The Youngsters
Tennessee started the second quarter with all four freshmen and sophomore Kasiyahna Kushkituah on the floor. UT pushed the lead from 20-14 to 30-21 during their three-minute stint together before another platoon of players took the court.
UT's freshman finished the night with 41 total points, 18 rebounds and 12 assists vs. the Racers. The freshmen also helped UT produce its most bench points of the season with 38.
Double-Double Time
Rennia Davis recorded her third double-double of the season and the 12th of her career, finishing with 20 points and 13 rebounds. It marked her second 20-point game this season and her rebounding total was a season high and one short of tying her career best.
Shooting And Connecting
Tennessee managed to get off a season-high 81 shots vs. Murray State, connecting on a season-best 41 of them. That led to another 2018-19 best thus far, a shooting percentage of .506.
Up Next for Tennessee Lady Vols
The Lady Vols will close out a four-game home stand on Sunday, December 30th, hosting Belmont at 2:00pm. The contest is UT's annual Hoops for Hunger game, during which each fan who donates two non-perishable food items will receive a complimentary ticket.