APSU Sports Information

Fayetteville, AR – Austin Peay State University (APSU) men's basketball found that it more than measured up to Southeastern Conference competition, giving Arkansas all it could handle in a 76-65 defeat at Bud Walton Arena, Friday.
Austin Peay (8-5) battled to the end and got huge minutes from its reserves but Arkansas (9-3) made a late second-half push to down the Govs in both squads nonconference finales.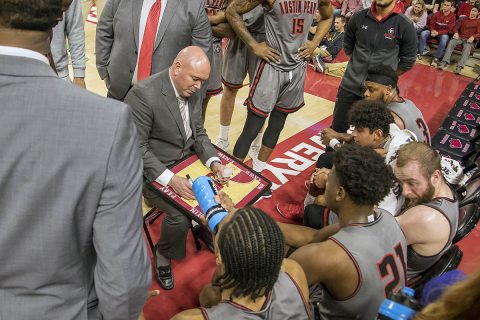 Arkansas likes to play fast. Real fast. And the Govs obliged in an up-and-down first half that saw the lead change hands eight times and average less than 20 seconds per possession combined.
Although the Govs shot better (46.2 percent to 39.4 percent) and outrebounded (20-17) Arkansas, Austin Peay's 10 first half turnovers did them no favors, particularly since the Razorbacks turned those into 12 points.
Neither squad led by more than five points during the half, although the Govs went up by four with less than nine minutes to go after a Jabari McGhee dunk. However, Austin Peay hit just two shots from the floor during the rest of the half, and Arkansas was able to capitalize and take a 34-33 lead into the break.
The battle heated up in the second half; Austin Peay smelled an upset of an SEC foe and the Razorbacks clearly resented being tested on their home court. But where Arkansas' SEC caliber athleticism might've given it an edge, the Govs did the little things—diving for loose balls, making the extra pass—that offer the hallmarks of an upset. Neither squad seized the upper hand in the early moments of the half.
Austin Peay took a 52-48 lead on a jumper by senior Steve Harris, silencing the crowd and allowing the Govs to harbor hopes of an historic upset. But Arkansas took that time to embark on a game-changing 11-0 run, with reserve Razorback Keyshawn Embery-Simpson scoring seven of those 11 points.
A four-point lead had become a seven-point deficit; an and-one opportunity by freshman Antwuan Butler would get the Govs back within four, but Austin Peay would get no closer as the Razorbacks pulled away late.
The Difference
Sometimes it's as simple as shooting. Arkansas hit 7-of-17 from three, while Austin Peay checked in at a season-low 16.0 percent (4-of-25) from beyond the arc, with only sophomore Dayton Gumm hitting multiple attempts from deep.
APSU Notably
Harris finished with a team-high 15 points, hitting 5-of-9 from the floor and 5-of-6 at the line.
Against two SEC foes this season, he's averaged 16.0 points on 55.0 percent (11-of-20) shooting from the floor and 83.3 percent (10-of-12) shooting from the line.
After hitting 52.8 percent from the floor over the previous five games, Austin Peay was a much more pedestrian 40.7 percent (24-of-59) against Arkansas. No doubt that contributed to a season-low 65 points for the Govs.
In addition to reaching double figures for the fourth time as a Gov with 10 points, McGhee posted a career-best two blocks.
Austin Peay outrebounded the Razorbacks 42-34; the Govs are now at plus-55 in rebounding margin over the last six games, an average of plus-9.2 per contest.
With eight rebounds, senior Chris Porter-Bunton is now averaging 8.6 boards over his last five outings.
The loss snapped Austin Peay's six-game winning streak and was the Governors first loss in December.
Butler equaled his career high with five assists.
Sophomore Terry Taylor finished with 10 rebounds, his 20th career game with a double-digit rebounding total.
For the fifth straight game, Austin Peay controlled the glass on the offensive end, posting a 14-7 advantage in second-chance points against the Razorbacks. The Govs are outpacing opponents 14.6-to-5.6 in second-chance points during that stretch.
Coaching Quotables from APSU Head Coach Matt Figger
Opening Statement
"I felt like we came out and we fought and we competed. I give a lot of credit to Coach (Mike) Anderson and Arkansas from the standpoint of their kids also fighting and competing. When they got down four, I thought the crowd got involved and they dug their heels in and made it hard for us. That's where the game was lost, and where the game was won for them."
On Embery-Simpson
"He got his number called and was the difference maker during that stretch. He only played 13 minutes, but when you score 14 in 13, that's a pretty good number. He did a really good job for them."
Up Next for APSU Govs
Play time (otherwise known as the nonconference schedule) is over. Austin Peay returns home to open Ohio Valley Conference play by hosting Eastern Kentucky; the men's game will be the second game in a January 3rd doubleheader in the Dunn Center.