Tennessee Valley Authority (TVA)
Knoxville, TN – As 2018 draws to a close, yearly rainfall totals for the Tennessee Valley Authority (TVA) region continue to climb to near record levels, and the trend for above average rainfall totals continues right up to year's end.
"For the week before Christmas, rainfall averaged 2 inches in the eastern Valley and 1.4 inches in the western Valley," said James Everett, senior manager for TVA's River Forecast Center. "We began spilling and sluicing at several locations the day after Christmas to increase flows and increase flood storage capacity, and that will likely continue into the New Year."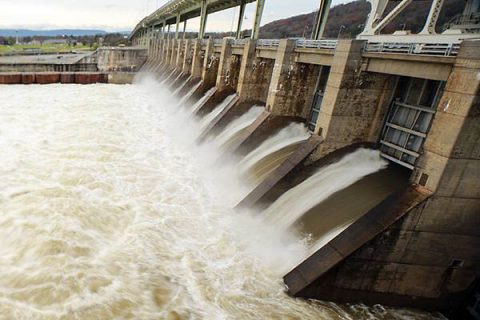 Everett said TVA is spilling or sluicing this week through gates at South Holston, Wilbur, Cherokee, Douglas, Norris, Fontana, Apalachia, Ocoee 3, Great Falls, Fort Loudoun, Watts Bar, Chickamauga (pictured above), Nickajack, Guntersville, Wheeler, Wilson, Pickwick and Kentucky reservoirs.
Most dams along the main stem Tennessee River have been in spill operations since mid-November and will likely be spilling well into 2019."Looks like 2018 is going to end with the same thing we've seen most of the year: rain," said Everett. "It's possible further gate changes will be needed this last week of the year and into next week to adjust for changes in rainfall predictions."
The current forecast calls for rainfall beginning today (Thursday) continuing through Friday night. Total accumulations of 1 to 4 inches are expected with the heaviest amounts in the mountains of western North Carolina and north Georgia. Another round of heavy rain is also currently forecasted for early next week with additional 2-3 inch totals.
Rainfall FTYD is more than 140% of normal and runoff more than 200% of normal, Everett said, boosted by hurricane Florence and hurricane Michael and Winter Storm Diego. Regional rainfall totals for the year over the 41,000 square-mile Tennessee River Valley have exceeded 62 inches, placing 2018 in the Top 10 all time for yearly rainfall in the TVA region.
Expected rains the last week of 2018 could possibly break the previous annual rainfall record of 65.1 inches set in 1973. The Tennessee Valley region normally averages 51 inches of rain a year.
"2018 has certainly been a rainy year, and it looks like that will continue right up to New Year's Day," Everett said. "We are ready for it and looking forward to continuing to serve the people of the Tennessee Valley in 2019."
TVA manages the 652-mile Tennessee River and its many tributaries using a series of 49 dams to meet vital public needs in six key areas: navigation, flood damage reduction, power production, water quality, water supply, and recreation. Click here to learn more about Tennessee Valley rainfall.