APSU Sports Information

Lake Charles, LA – Drew Dudley, Bailey Shorter and Carly Mattson provided the offense for the Austin Peay State University (APSU) softball team, Friday night at Joe Miller Field, while Morgan Rackel extended her run of shutout innings to 14, as the Governors defeated McNeese State, 4-0.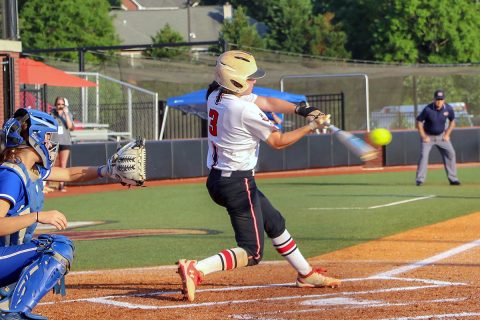 For Rackel (4-3), it was her third shutout of the season for Austin Peay (6-5), as the left-hander limited the Cowgirls (6-7) to three singles and three walks, while striking out nine.
The game would be deadlocked at 0-0 heading into the top of the fourth inning when Dudley broke the scoreless duel with a double down the right field line to scoring Mattson – who had opened the inning with a single — all the way around from first base.
Austin Peay would break the game open an inning later, scoring three times, including two runs on Mattson's first home run of the season and the other on a single up the middle by Shorter, scoring Natalie Schilling – who reached base on a single.
The defense would also step up in big situations for the Govs, with Dudley knocking down a ball and throwing the runner out at first on a bang-bang play to start the sixth inning followed by Kacy Acree tracking down a ball on the warning track in center field, while Matson and Danielle Liermann had a strike 'em out, throw 'em out double play on a stolen base attempt to end the third inning.
The Govs and Cowgirls will continue their three-game series Saturday with a doubleheader, scheduled to start at 2:00pm.
Inside the Boxscore
The shutout by Morgan Rackel was the 10th of her career, making her just the fourth pitcher in program history to reach double-figures in career shutouts.
Carly Mattson's two-hit effort was her 30th multi-hit game of her career.
Drew Dudley has recorded the game-winning RBI in the last two games.
APSU Head Coach Kassie Stanfill Statements
On winning each facet of the game
"It was exciting to see our girls come out in Game 1 of this series and play well all the way around. We got solid pitching from Morgan, had several big plays on defense and came up with some big hits in situations with runners on base."
On Morgan Rackel's current run in the circle
"Morgan did a good job of keeping them (McNeese) off balance and even with the three walks it was a good performance by her in the circle and now we need to come out tomorrow and continue to do that as a staff."
On big hits in big spots
"That is how you put runs on the board. Getting and stringing hits together and making something happen when you have an opportunity to do so."