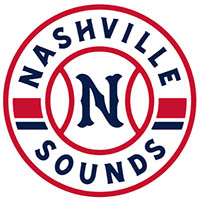 Round Rock, TX – The Nashville Sounds came back from three runs down in the ninth to beat Round Rock Express, 9-7. Patrick Wisdom and Hunter Cole both homered in the ninth to help score five runs to win the game.
Kyle Tucker would get things going for the Express after hitting an RBI triple to give Round Rock the early 1-0 lead after the second inning.
Nashville responded immediately in the top of the third when Delino DeShields hit a two-run double to give the Sounds a 2-1 lead.
Cole remained hot with an RBI single in the fourth and Carlos Tocci would hit a sacrifice fly to give Nashville two more runs and extended the Sounds lead 4-1.
After starter Wes Benjamin allowed the RBI triple to Tucker, he would retire 12-straight Round Rock batters through the fifth inning. His efforts were halted after a Drew Ferguson two-run homer. Brady Feigl came in to relieve Benjamin and then gave up a game-tying home run to Yordan Alvarez. It was Alvarez' fifth home run against Nashville this season.
There was minimal action until the bottom of the eighth inning where Round Rock loaded the bases with two outs. Zac Curtis came in to face left-handed hitter Tucker who hit a double that scored two. Curtis would walk the next two batters that scored another run to make it 7-4.
The Sounds made magic happen in the ninth. Adam Moore reached on an error and Eli White would reach on an infield single. With two outs and on a 1-2 count, Wisdom hit a three-run home run to tie the game at 7. After Matt Davidson singled, Cole played the hero with a two-run homer to give the 9-7 win to Nashville.
Post-Game Notes
With today's 9-7 win, the Sounds are now 16-26 on the season.
The Sounds were 0-23 when trailing after eight innings until today's win.
Wes Benjamin has now pitched at least five innings in his last three starts.
With two more RBI in today's game, Delino DeShields now has five RBI in four games in this Round Rock series.
Zack Granite struck out multiple times for just the second time this season, where he also struck out twice on April 30th versus Omaha Storm Chasers.
Next Up For Nashville Sounds
Tomorrow night's game will conclude the 13-day road trip for Nashville. First pitch tomorrow night will be at 7:05pm, where the Sounds will start right-hander Ronald Herrera (0-3, 15.26) against Express right-hander Brady Rodgers (4-0, 3.22).
The 2019 season is the 42nd in Nashville Sounds franchise history and first as the Triple-A affiliate of the Texas Rangers. Single-game tickets are available now by calling 615.690.4487 or by visiting www.nashvillesounds.com