Muscatatuck Urban Training Center, IN – The morning air filled with smoke; felled trees and debris covered the area as trucks began to arrive. U.S. Army Soldiers with 501st Area Support Medical Company, based in Fort Campbell, Kentucky begin setting up for decontamination operations and medical evaluations as part of Guardian Response 2019 at Muscatatuck Urban Training Center, Indiana, May 1st, 2019.
More than 9,000 Soldiers from across the country are participating in Guardian Response 2019, a multi-component training exercise that validates U.S. Army units' ability to provide capabilities for the Defense Support of Civil Authorities in the event of a Chemical, Biological, Radiological, or Nuclear catastrophe.
As part of the validation process, the 501st ASMC works with Medical Readiness Training Command's Observer Coach/Trainers as the unit sets up their treatment tent and decontamination site.
Capt. Marjorie Attimy-Kalevela, a dentist with 7303rd Medical Training Support Battalion based out of Fort Gordon, Georgia, prepares a "medical inject", or scenario, designed to challenge the responses of personnel within 501st ASMC.
"The point of the inject is to simulate a possible situation that can occur while setting up their equipment, in this case, Herring is simulating falling off a truck and sustaining a deep head wound. This not only takes Herring out of their personnel supporting the setup process, but it also takes out those who provide care," Attimy-Kalevela said.
As an OC/T, Attimy-Kalevela monitors responses and determines where the unit might work on efficiencies.
"The training in Guardian Response 19 helps show how the unit communicates, as well as showing their strengths and weaknesses. The training also helps with confidence as individuals discover how they can successfully complete a mission," she said.
Pvt. Cameron Herring, a 501st ASMC Soldier selected to participate in the inject, sustained mock injuries using moulage techniques and given a simulated head wound and instructions on what symptoms to demonstrate. Returning to the unit, Herring is discovered and receives treatment which starts the inject. The incident responses are observed by OC/T's, Attimy-Kalevela and Col. Michael Medev, a Physician Assistant who is also assigned to the 7303rd MTSB.
"The training was fantastic. There are always going to be good things and things that need improvement, but you only improve by going through this type of training. These injects are different scenarios that could really occur, and units should anticipate them. Personnel getting sick and taken out of the mission through illness or injury while setting up. These scenarios are designed to see how unit commanders are going to respond in that situation," Medev commented after the training.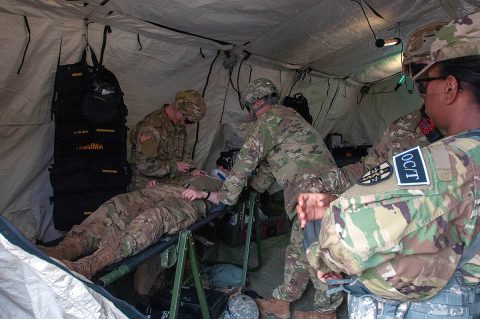 With the inject underway, Herring is triaged and moved to the medical treatment tent that is still being established, where Pvt. Cameron Rodgers and Capt. Chris Whittaker, a Physician Assistant, treat him. Whittaker lets Rodgers take tlead on the treatment while providing training and mentoring.
"The Soldier assessed him from head to toe, did a neuro exam and addressed the laceration on the forehead. I keep on the Soldiers about mastering the basics, good primary and secondary surveys, head to toe assessments and knowing how to use every tool at your disposal correctly.
"These medics are hungry and eager to learn which motivates us from the leadership standpoint. I am motivated to train them as much as they will take," said Whittaker after the training concluded.
Being a part of the training scenario gave Herring a unique learning perspective.
"We not only got good training time but quality training time as a unit. We got to actually prepare for our mission and got to do our job. This training allows us to challenge ourselves to get better at it every time we do it."
Medical Readiness and Training Command (MRTC) is a one-star command that provides and resources "joint, multi-national collective training" to medical units and Soldiers for contingency operations while sustaining modularity of ready medical forces in support of civil affairs nation building and homeland operations.
Three Regional Training Sites serve as training platforms for DoD medical units by providing specialized medical individual/collective training and biomedical maintenance support.
ARMEDCOM's Medical Readiness and Training Command helps the U.S. Army, and America's Army Reserve maintain a ready status by supporting new and traditional training strategies that produce units of action and individual Soldiers who are trained and equipped to meet mission requirements of Geographic Combatant Commands.