Clarksville, TN – On Friday, July 12th, 2019, around 11:10am, Clarksville Police Officers responded to a three vehicle injury crash at Madison Street and Richview Road.
A red Hyundai Accent traveling east on Madison Street, driven by a 22 year old male was attempting to make a left turn off of Madison Street onto a parking lot, and did not yield to an oncoming Ford Ranger traveling west on Madison Street, driven by a 21 year old male.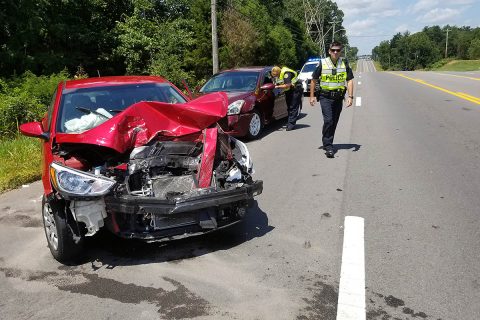 The impact of the collision caused the Hyundai to be pushed into a Nissan traveling east on Madison Street driven by a 58 year old male.
The 21 year old male driver of the Ranger and a passenger in the Hyundai were transported by EMS to a local hospital with minor, non-life threatening injuries.
The Hyundai's 22 year old male driver was cited for Failure to Yield and Operators to Use Reasonable Care.
The investigation is ongoing and charges are pending for the 21 year old driver of the Ranger
Traffic flow on Madison Street was interrupted for over an hour.
The lead investigator is Officer Horton.