Clarksville, TN – The Austin Peay State University (APSU) soccer team will welcome two Ohio Valley Conference opponents to Morgan Brothers Soccer Field this weekend with a 7:00pm Friday match against Southeast Missouri and a 1:00pm Sunday match against UT Martin, which will bookend the weekend for Governor athletics.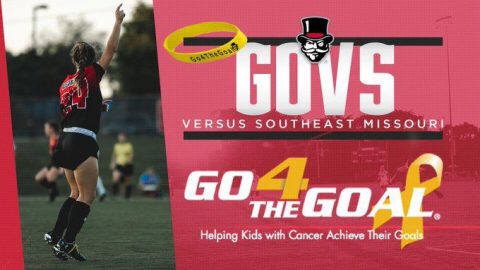 For Friday's game, the Govs and Southeast Missouri will be teaming up with Go4theGoal by lacing up with gold shoelaces to raise awareness for Pediatric Cancer.
Donations to help kids with cancer achieve their goals can be made online at www.go4thegoal.org or at Friday night's game.
Opponents
Southeast Missouri
APSU vs. Redhawks All-Time: 6-11-4
Last Meeting: October 21, 2018 (L, 1-2)
Record in Clarksville: 2-4-2
Last Meeting in Clarksville: October 6, 2017 (T, 1-1)
The Governors ended the regular season last year in Cape Girardeau, Missouri, dropping a match that would have qualified them for the OVC tournament. Ashley Whittaker scored her only goal of 2018 in last year's match against the Redhawks.
UT Martin
APSU vs. Skyhawks All-Time: 5-11-2
Last Meeting: October 14, 2018 (L, 0-5)
Record in Clarksville: 3-4-1
Last Meeting in Clarksville: October 8, 2017 (T, 2-2)
The last time that UT Martin came to Clarksville, Gybson Roth scored the second of her two career goals off an assist from Renee Semaan. The Skyhawks enter the second week of OVC play with a 1-0-1 record, after drawing with EIU, 0-0, and beating Belmont, 1-0. The Skyhawks keeper, Erica Myers, is the reigning OVC Goalkeeper of the Week, after posting a pair of shutouts in the OVC opening weekend.
The Governor offense has flipped a switch ever since their return from Colorado, scoring four of their five goals this season in the last three games. Claire Larose, Renee Semaan, Ashley Whittaker, and Abigail Gemza have all found the back of the net once for the Govs in the last three games. Larose and Whittaker are tied for the team lead in points, with each having a single goal and assist this season.
The defensive unit has also picked it up for the Govs, who have posted two shutouts in their last three games. Led by Semaan and goalkeeper Mary Parker Powell, the Governors have only allowed two goals in their last 310 minutes played.
The Governors enter the weekend having drawn in their last two matches. The last time the Govs drew in back-to-back matches was in 2017 against Southeast Missouri and UT Martin, the two opponents for this weekend. Austin Peay has never drawn in three consecutive matches. The last time the Governors played in three straight overtime matches was in October of 2006 – Southeast Missouri (10/6, W 2-1), Eastern Illinois (10/8, T 0-0), and Tennessee Tech (10/13, L 1-2).