Clarksville, TN – On Tuesday, October 1st, 2019, the Austin Peay State University (APSU) Science on Tap – which drew more than 75 people to Strawberry Alley Ale Works' Pilsner Room last month at its inaugural gathering – is set to return 5:30pm at the same location.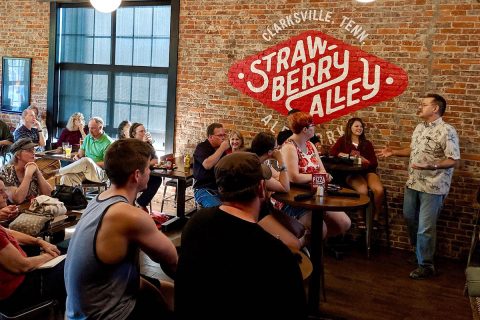 Science on Tap is a monthly lecture series hosted by APSU's College of STEM that unites two great things: science and local brews. This month's gathering doubles down on that second part.
APSU chemistry professor Dr. Allen Chaparadza will discuss the science of beer, aka fermentation. The title of Chaparadza's talk is "Looks Good, Tastes Good but What's More?"
In September, Dr. J. Allyn Smith – an astrophysicist who teaches in the Austin Peay State University Department of Physics, Engineering and Astronomy – discussed black holes. Science on Tap is the first Tuesday of every month, and future topics could include Clarksville's sinkhole topography, the newly discovered Screaming Eagle Crayfish and the New Madrid Fault.
"This is all really neat stuff," Smith said. "'Science on Tap' is a great way to spend a Tuesday evening meeting members of the community, meeting Austin Peay State University people, having fun and learning something about science."
To Learn More