Clarksville, TN – The Austin Peay State University (APSU) football team hopes to protect the Fort again following their September 28th rout of conference rival (and then No. 11-ranked) Jacksonville State and the subsequent bye week. The Govs host Southeast Missouri at 2:00pm Saturday, October 12th.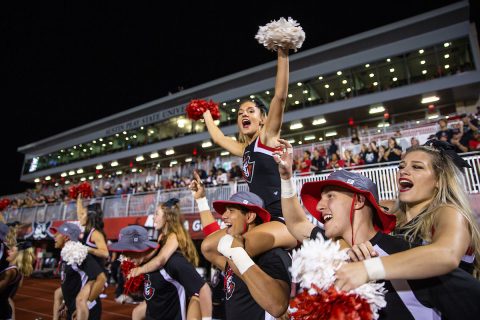 The Redhawks (3-2, 1-0 in the conference) qualified for the FCS playoffs last year and are coming into the game after defeating Tennessee Tech 43-37 in two overtimes last week.
The Governors ask everyone to wear white for a White Out! That accompanies two other promotions: Monocle Society Day and Youth and Team Day. Also, arrive before the game for the Stache Street's trucks, music and inflatables.
For more information, visit www.letsgopeay.com.
Presentation to explore 'Dangers of Social Media'
Level 10 Technology is hosting a special presentation titled "Dangers of Social Media" 5:00pm-7:00pm Monday, October 7th, at Austin Peay State University's Clement Auditorium.
The event is open to the public – but especially faculty and students with minors – to explore such topics as children's online footprints, social media apps, types of human trafficking, online predators, how to keep your child safe online and monitoring software.
Representatives from the FBI and the Montgomery County District Attorney's Office will participate in the presentation.
Because of the sensitivity of the topics, children younger than 18 are not permitted. A limited number of tickets are available.
To attend you must register by clicking here.
Mental Health Awareness Week
Join the Student-Athlete Advisory Committee for a week of conversation and activity in the hope to break the stigma of mental health.
The goal is to reach all students to bring awareness to mental health, provide avenues of comfort and bring the realization that it's OK not to be OK.
Events include free popsicles at 6:00pm Tuesday's "Destress Paint Converse Play" at the beach volleyball courts and free wristbands at the volleyball game against Murray State on Wednesday. Events are planned all week, find details at @apsu_saac on Twitter and @apsusaac on Instagram.
'Do it' exhibit continues
Austin Peay State University's 10-week run of the international "do it" exhibit continues at The New Gallery in the Art + Design building on campus. The exhibit runs through December 6th.
"Do it" is a 26-year global phenomenon that is a compendium of 400 written instructions by artists interpreted anew every time they are enacted.
The New Gallery will have 22 sets of instructions by artists such as Felix Gonzalez-Torres, Adrian Piper, Yoko Ono, Alison Knowles, Sol LeWitt, David Lynch and Joan Jonas.
The works range from whimsical to abstract, but all are meant to provoke thought and engagement. Students will create some of these works, while some will be created via the interaction of the public.
For more about "do it," go to www.apsu.edu/news/september-2019-do-it.
APSU Volleyball team hosts Murray State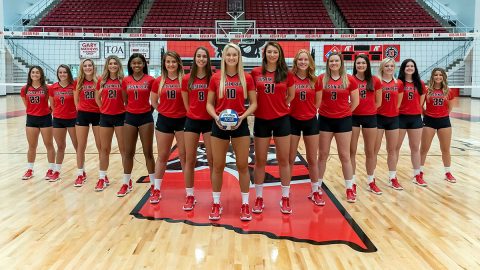 The APSU Volleyball team will host rival Murray State in the First Financial Battle of the Border at 6:00pm Wednesday, October 9th at the Winfield Dunn Center. The Govs are entering the contest after beating UT Martin 3-1 on Saturday, improving to 3-1 in conference play.
For more information, visit www.letsgopeay.com.
Fall Break is coming to Austin Peay State University!
Students will get a much-needed break to recuperate on October 14th-15th for the second half of the semester. Neither the Clarksville Campus nor Fort Campbell Center will have classes those two days. To see APSU's academic calendar, click here.
Other Austin Peay State University happenings this week:
College Business Fair 1:00pm-4:00pm Thursday, October 10th, on the Morgan University Center third floor. Click here for more.
#Adulting: How not to lose all your $ to insurance noon Tuesday, October 8th, at Morgan University Center Room 310. Click here for more.
I Love Salsa! at 5:30pm Tuesday, October 8th, at the Morgan University Center lobby. Click here for more.
For more campus events, click here.