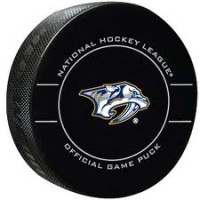 Sunrise, FL – The Nashville Predators fell to the Florida Panthers in the second game of a back-to-back series 3-0, unable to score on Panthers goalie Chris Driedger who was playing in his first NHL game.
Driedger played like a seasoned veteran, stonewalling the Predators on all 27 shots he faced in the contest.
Nashville had some momentum coming into this game after last night's shutout victory over the Carolina Hurricanes, but couldn't break through on the scoreboard.
After a scoreless first period, Florida opened things up in the second when Anton Stralman scored just 1:06 into the period, when he jumped on a rebound just inside the circle and scored his first goal of the season past Nashville goalie Juuse Saros, and the Panthers took the 1-0 lead.
Into the third period, it was Stralman again at 8:38 taking a Vincent Trocheck pass from behind the net to beat Saros for the 2-0 lead.
Then Aleksander Barkov fired the one timer at 11:09 of the final frame with a wrist shot to produce the final score of the game, 3-0.
Nashville had their opportunities but couldn't get anything past Driedger, who was replacing Sergei Bobrovsky, the 60 million dollar man for Florida who has been slumping in recent games. Head coach Joel Quenneville made the surprise move to bench his star for the rookie who was called up for tonight's game.
Nashville will head home before hosting the Tampa Bay Lightning on Tuesday night at Bridgestone Arena. Puck drops at 7:00pm.