Cape Girardeau, MO – On Southeast Missouri's third possession, Quatarrius Wilson dunked. From that point, things got progressively better for the Austin Peay State University (APSU) men's basketball team and progressively worse for Southeast Missouri.
The Govs locked down the Redhawks in the first half and ran away in the second, cruising to an 84-59 victory at the Show Me Center to remain unbeaten in Ohio Valley Conference play.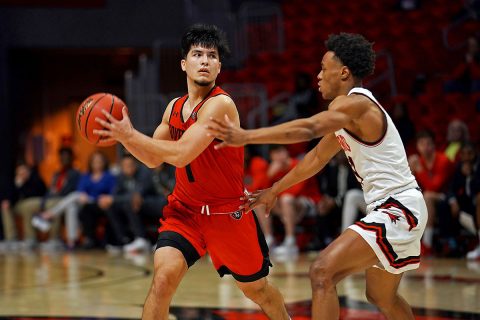 The Govs struggled to start on Saturday at Jacksonville State and needed a comeback for the ages to topple the Gamecocks.
No such heroics were required against Southeast Missouri, as Austin Peay State University raced out to a 24-9 lead and never looked back. Terry Taylor scored 11 points during this run, which spanned much of the first half and allowed head coach Matt Figger to maximize his starters' rest with a comfortable lead.
Neither team hit a shot from the floor in the first half from the 10-minute mark until an Alec Woodard three with less than five minutes to play. This stretched the Austin Peay State University lead to 20, while the Redhawks didn't reach double figures until just over three minutes remained in the first half. By that point, APSU's dominance in this contest had become apparent. Taylor finished with 20 in the half and Austin Peay led 40-21 at the break.
The first-half dominance made the second period largely perfunctory; short of a reprisal of the great Jacksonville State Drought of 2020, the Govs needed merely to avoid total collapse and were able to do just that, expanding the lead to nearly 30 points before giving the starters an early evening and getting extended playing time for Sita Conteh, Alec Woodard and other reserves—APSU's second unit scored 22 of its 32 points in the second half en route to victory.
The Difference
Plenty of contenders here, but it has to go to Austin Peay State University's dominance in the paint. The Govs outscored Southeast Missouri 42-18 on points in the paint, which marked APSU's third 40-point effort in the paint in the last four games.
APSU Notably
The APSU Govs have won seven in a row against Southeast Missouri.
The Redhawks are the first Austin Peay State University opponent to score fewer than 60 points since Feb. 7, 2019 against SIU Edwardsville.
Led by freshman Carlos Paez's career-high eight assists, the APSU Govs handed out a season-high 22 assists as a team. Austin Peay is averaging 16.6 assists as a team over the last five games.
The Govs hit a season-best 59.3 percent (32-for-54) from the field against Southeast Missouri. In their 11 victories, Austin Peay State University is hitting 51.5 percent (337-for-654) from the floor. Austin Peay is now 9-0 when outshooting its opponent in 2019-20.
For the first time this season, Austin Peay State University won despite accruing fewer second-chance points than its opponent.
Since joining the starting lineup, Paez has a 3.6-to-1 assist-to-turnover ratio.
Austin Peay State University is 5-0 in the OVC for the second year in a row.
The Govs have won the battle in second chance points five games in a row.
The 47.4 percent (9-for-19) Southeast Missouri shot at the free-throw line is the worst a Division I opponent has shot at the stripe against the Govs this season.
Since the start of OVC play, Taylor is averaging 23.8 points on 55.6 percent (45-for-81) from the floor and 77.4 percent (24-for-31) at the line, with 10.6 rebounds.
The APSU Govs are 8-0 when scoring 80 points in 2019-20.
Southeast Missouri snared just two steals, equaling the season-low by an Austin Peay State University opponent in 2019-20.
Woodard hit all three of his three-point attempts; after starting his career 4-for-25 from deep, he's hit 7 of his last 11 attempts from beyond the arc.
The APSU Govs have won five straight at the Show Me Center for the first time in series history.
Milestone Watch
Taylor finished with 24 points, leaving him two behind Trenton Hassell for 10th all-time. He also passed Josh Lewis for ninth all-time in career rebounds and is now four behind Ralph Garner for eighth.
Coaching Quotables with APSU Head Coach Matt Figger
On defense
"We're so young and inexperienced, and our defense takes time to learn. But we're doing a really good job of disrupting teams and taking them out of what they do every day in practice, where they're in their comfort zone. Sometimes really good players make plays and you've got to live with it but for the most part it becomes a game of everybody playing one-on-one and there's no passing, and that plays into the schemes that we want to take advantage of.
"I might have been as calm as I've ever been in three years here on the bench tonight. We guarded our tails off. My team gave me no reason to worry. We were up 30-9 at one point, in the conference, on the road."
On Paez
"He was terrific tonight. And here's the crazy thing—we had to beat no Division I schools to get him. I love the ball being in his hands, because he's making plays and he's always finding the right guys. He puts guys in position to be successful, and you can't say enough about how well he's playing right now and the job he's doing for us."
Next Up for APSU Men's Basketball
The four-game road trip comes to an end Saturday in Martin Tennessee. The APSU Men's Basketball team travels to UT Martin for a 4:00pm tip-off at the Elam Center.