Austin Peay (14-7, OVC 8-0) vs. SIU Edwardsville (5-16, OVC 2-6)
Thursday, January 30th, 2020 | 8:00pm CT
Clarksville, TN | Dunn Center

Clarksville, TN – After dispatching one of the league's flagship programs on Saturday night, the Austin Peay State University (APSU) men's basketball team can't afford to take a step back when a dangerous SIU Edwardsville unit visits Clarksville, Thursday night.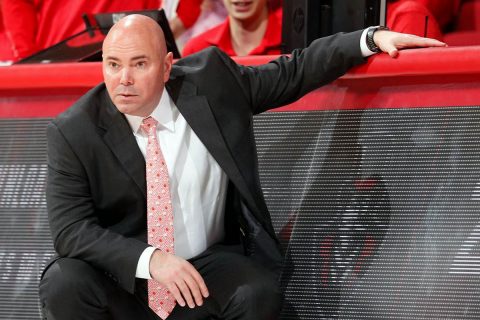 Austin Peay State University's recent hot streak has garnered recognition from around the country, and the mid-major community has begun to take notice.
Earlier this week, Terry Taylor was named CollegeInsider.com National Player of the Week, while the Govs as a team checked in at No. 21 in their first appearance on the CollegeInsider.com Mid-Major Top-25 poll.
Thursday, Austin Peay State University athletics will welcome members of the APSU Greek community to the Dunn Center for Greek Night. We'll also give away free touchscreen compatible gloves thanks to game sponsor Tennova Healthcare.
About the SIU Edwardsville Cougars
Things are different in Edwardsville this season. In addition to first-year head coach Brian Barone patrolling the sidlelines for the Cougars, there's a renewed buzz around the program after SIU Edwardsville knocked off prohibitive Ohio Valley Conference favorite Belmont to open league play–in Nashville, no less.
As with any program going through the pangs of a revival with a new head coach, there are some hiccups. The Cougars no longer do anything terribly poorly, aside from a disadvantage on the glass (32.4 rebounds per game, 326th nationally) and an aversion to three-point shooting (5.8 per game).
The Cougars just don't excel in any one thing yet, ranking in the nation's top-100 in just one category (total assists at an even 300).
And yet the signs are there that Barone has things headed in the right direction in Edwardsville. The Cougars have thrown scares into Northern Illinois, Tennessee State and Eastern Kentucky, in addition to a Quadrant 2 win against Belmont on the NET rankings.
However, things will get progressively tougher for the Cougars over the second half of the league slate; after this game, the Cougars will have the rematch with the Govs, two games against Murray State and only three remaining contests against OVC foes currently below .500 in the conference.
APSU Basketball's Last Game Against SIU Edwardsville
In its largest league win since 2007, Austin Peay State University dominated both ends of the court in a February 7th, 2019 win against SIU Edwardsville in the Dunn Center. The Govs built a 30-5 lead and never looked back, as SIUE missed 15 of its first 17 shots and entered the half down 42-18.
APSU led by 30 for much of the second half, allowing head coach Matt Figger to rest his starters and give extended minutes to the second unit.
Keep An Eye On
Jordyn Adams is the fourth-ranked freshman in the nation at 17.6 points per game.
Taylor is 18 points from 500 in his junior season; he would become the first player in program history with 500 or more points in each of his first three seasons, and one of just eight OVC players with three different 500 point seasons since 1993.
Since league play began, Austin Peay State University's average turnover margin is plus-3.3 and its average rebound margin is plus-5.8.
Adams is now averaging 28.3 points, 3.0 assists and 1.0 steals over the last three games, hitting 51.8 percent (29-for-56) from the floor, 90.9 percent (20-for-22) at the free-throw line and 48.3 percent (14-for-29) from beyond the arc.
Over the last three games, Austin Peay State University is hitting 85.7 percent (60-for-70) from the charity stripe.
The APSU Govs enter Thursday's contest as the only team in the OVC ranked among the nation's top-100 in scoring (78.6 ppg, 27th), field goal percentage (46.9, 36th), three-point field goal percentage (35.3, 87th) and free-throw percentage (73.6, 84th).
A Win Would
Make the APSU Govs 9-0 in league play for the first time since the historic 2003-04 season that saw the Govs go unbeaten in league play.
GiveAPSU a 12-game home winning streak, its longest since a 28-gamer in 2002-04.
Be Austin Peay State University's first nine-game winning streak since an 11-gamer from Dec. 20, 2006-Jan. 29, 2007.
Be Austin Peay State University's first five-game winning streak at home in league play since an eight-gamer over two seasons from February 16th, 2017-January 27th, 2018.
Be Austin Peay State University's 10th straight win against SIUE, its longest active streak against an OVC opponent.
Milestone Watch
Taylor could move into the all-time top-five in scoring at APSU with a monster game. At 1,687 points, he's 14 from passing both Howard Wright and Wesley Channels for seventh, and he could pass Otis Howard (1,718 points) and Chris Horton (1,719 points) with 32 and 33 points, respectively. He also needs five rebounds to pass Drake Reed for fourth all-time in boards.
APSU Tickets
Austin Peay State University Governors Courtside Seating returns for the 2019-20 season. Fans can contact the APSU Athletics Ticket Office for courtside seating availability and pricing. The VIPeay Hoops Experience, available to Black Tie Monocle Society members and above, also returns for 2019-20 after a successful debut last season.
For more information on joining the Governors in the Dunn Center this winter or to become involved with the Monocle Society, call 931.221.PEAY. You can also purchase tickets online at www.LetsGoPeay.com/buytickets; be sure to access the new 360-degree view of the Dunn Center when purchasing tickets.
Thursday night's doubleheader online promo code is GOV; use that promo code at checkout for online purchases for $5.00 general admission tickets.
APSU Govs Online
Check back at LetsGoPeay.com and on Austin Peay State University's Official Athletics Facebook page often for up-to-date news about all APSU Governor athletics, as well as the Governor men's basketball Twitter page (@AustinPeayMBB). Live stats will be available during the game at PeayStats.com, and all home games and Ohio Valley Conference games can be viewed on the ESPN+ app.