Clarksville, TN – All of it's working for the Austin Peay State University men's basketball team. All of it.
Double Terry Taylor? Fine. He can find the open man. Throw bodies at Jordyn Adams? The Govs have shooters all over. Think you've finally gotten everybody covered and forced a bad shot? Well, bad news, here comes Eli Abaev flying in for the putback.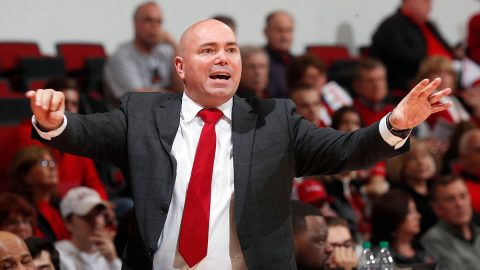 Austin Peay State University men's basketball team handled anything SIU Edwardsville threw at it with ease Thursday night, dispatching the Cougars in an 82-58 drubbing to keep the Govs perfect record in league play alive at the halfway point of the Ohio Valley Conference slate.
Anyone expecting SIU Edwardsville, a 2-6 squad in the league, to merely roll over for the Govs was mistaken. Austin Peay State University led from the get-go but it was a perilous advantage; the Cougars closed it to a one-possession game after a Cam Williams dunk with 11:16 to play in the first half.
Austin Peay began to gain separation when Carlos Paez and Antwuan Butler hit threes on three-straight possessions–two for Paez sandwiched around a Butler triple, which Paez assisted on after driving to the basket, drawing defenders and kicking out to Butler on the right wing. This grew Austin Peay State University's lead to 12, but a three followed by a layup from SIUE's Iziah James brought the Cougars right back into the contest.
However, the Govs closed on a 9-4 run to end the half, with Adams converting the last five on an old-fashioned three-point play and a layup. Even though the Cougars swished home a runner at the buzzer, Austin Peay State University entered the break up a dozen, 38-26.
The new strategy that's sweeping the OVC–throwing every available defender at Taylor and forcing him to give up the ball–found another new wrinkle in the first half. Taylor handed out six assists, hitting cutting runners headed to the rim or kicking out to shooters for open looks.
The second half occasionally veered toward the sloppy side, as the fatigue of the game wore on and the lead increased for the Govs. Head coach Matt Figger's biggest pet peeve–playing to the score rather than the opponent–reared its head on more than one occasion. But largely, the Govs kept the game firmly in hand, leading by as many as 24 points and as few as nine over the final 20 minutes.
As the half wore on, the question became not, "Would the Govs win?" but rather, "Would Terry Taylor achieve immortality with the second triple-double in program history?" He would finish one rebound and one assist short of the hallowed mark, with nine assists representing a career-high.
The Difference
Plenty of good choices here, but free-throw shooting remained a bright spot for the Govs, who hit 82.1 percent (23-for-28) at the charity stripe, compared to a 53.3 percent (8-for-15) effort from SIUE. Over the last four games, the Govs are shooting 84.7 percent (83-for-98) at the free-throw line.
Notably
The APSU Govs are now 9-0 in league play for the first time since the 2003-04 team ran through the league schedule unbeaten.
In committing just one turnover over the final nine minutes of play, Austin Peay State University kept its streak of games with 10 or fewer turnovers alive at four games.
Austin Peay State University has now won 12 straight at home, longest since a 28-game streak that spanned 2002-04.
The Govs are averaging 10.2 threes per game over the last six games, hitting 43.9 percent (61-for-139) during that stretch.
SIUE's 58 points were the fewest surrendered by the Govs this season and the fewest against an OVC opponent since February 7th, 2019 against… SIUE in the Dunn Center. The Cougars attempted the fewest three-pointers (10) of any Austin Peay opponent in 2019-20.
During league play, the Govs are at plus-3.3 in turnover margin and plus-5.7 in rebounding margin.
With 13 points and 10 boards, Abaev secured his first double-double as a Gov. He's averaging 12.0 points and 9.3 rebounds over the last four games.
The APSU Govs are now 12-0 when scoring more than 80 points in a game.
The Govs have outscored their last four opponents 55-25 in second chance points.
Freshman Alec Woodard poured in a career-high 11 points off the bench, hitting a trio of three-pointers. He's hitting 65.0 percent (13-for-20) from three over the last eight games.
The win is Austin Peay Sate University's 10th in a row against SIU Edwardsville, its longest active streak against a league opponent.
Adams is averaging 27.3 points on 50.7 percent (36-for-69) shooting from the floor over the last four games.
Evan Hinson scored 10 points, the second time in four games he reached double figures as a reserve.
The APSU Govs finished the month of January unbeaten for the first time since 2006-07.
Austin Peay State University is on its first nine-game winning streak since winning 11 in a row from December 20th, 2006-January 29th, 2007.
Milestone Watch
Taylor passed Drake Reed for fourth all-time in career rebounds with 799.
Coaching Quotables with APSU head coach Matt Figger
On moving to 9-0
"Halfway through the conference season and you don't have a blemish on the right side [of the win-loss column], that's a happy place to be. I thought we were a little sluggish, didn't think we were particularly sharp, didn't think we flowed offensively, especially in the first half. But we're still in control of our own destiny."
On staying sharp
"One thing, I'm always coming to compete every day. Terry jokes with me sometimes that I've gotten softer since year one. But I'm going to show up and demand our guys play, and I'm going to tell them the truth when they don't. I didn't go in and destroy them at halftime; I just told them we were playing like we practiced and like we're stuck in mud."
Next Up For Austin Peay State University Men's Basketball

A dangerous Eastern Illinois squad, fresh off giving fellow league unbeaten Murray State all it could handle in a road contest, will visit Austin Peay State University men's basketball at the Dunn Center Saturday. Tipoff is scheduled for 4:00pm on Military Appreciation Day.