Clarksville, TN – Twenty-five students from Northeast High School's Computer Information Technology Academy (CITA) recently visited with Austin Peay State University (APSU) students and professors to learn more about how robotics is integrated in various fields.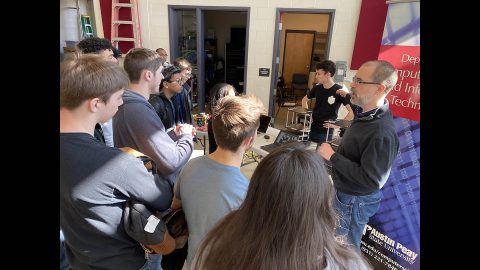 Representatives from the APSU departments of Computer Science and Information Technology; Engineering Technology; and Physics, Engineering and Astronomy showed off robotic manufacturing systems and robots to the students.
The students saw a state-of-the-art Fanuc robot in action with an Amatrol 870 series mechatronic learning system. The system integrates several components of manufacturing disciplines, such as mechanical, electrical, fluid and computer programming.
"This sort of equipment has become pretty much industry standard, and it gives students a feel for what kind of conditions they'll encounter when they begin their career," said Matthew Anderson, an assistant professor for engineering technology.
The students also watched a TurtleBot 2 navigate the bay at the APSU Technology Building. Austin Peay State University robotics students are learning to work with the TurtleBots to navigate and map buildings on campus.
APSU also hosted CITA students for a similar tour last year, but university officials expanded this year's visit to show how various disciplines work with robots, from programming to manufacturing. The Northeast students also toured campus and got a free lunch on campus.
"Robotics is a multidisciplinary field," said Dr. John Nicholson, an associate professor in computer science. "Engineering Technology has a robotics class (for manufacturing), and the classes I'm teaching are more for autonomous robots in a more dynamic environment.
"There are different types of robots in different career plans," he added. "Robotics includes programming, electrical engineering, mechanical engineering, design."
Northeast's CITA provides more than 200 students hands-on experiences in a combination of engineering, robotics and automated systems, digital electronics and coding skills.
[470cetner]
To Learn More