Clarksville, TN – The Austin Peay State University (APSU) men's basketball team is one step closer to locking up a top-two seed, the coveted double-bye and potentially an Ohio Valley Conference regular season title after the Govs withstood a fierce challenge from Morehead State in a 67-58 win to cap an unbeaten regular season at home for the Govs.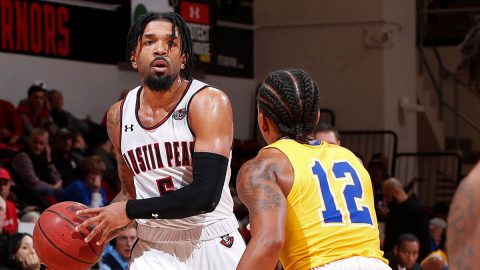 The win makes Saturday at Murray State a showdown for the league title.
Win, and Austin Peay State University clinches at least a share of the OVC regular season title and the top seed.
Lose, and the Govs tumble down to No. 3. Sure, there's still a bye involved… but a regular-season championship trophy sure would look nice around the Dunn Center.
The start was sluggish. The teams missed 15 of the first 20 shots that went up until Terry Taylor brought the crowd to its feet with the first of two first-half highlight-reel dunks, a swooping tomahawk slam that electrified the Dunn Center faithful.
The visitors built a seven-point lead by pounding the ball inside, taking a 19-12 lead after an 8-0 run to the 10:35 mark. But threes from Jordyn Adams and Carlos Paez kicked off a 17-4 Austin Peay run, with Taylor slamming another one home and Matheus Silveira providing a spark off the bench as a force in the paint.
A James Baker three cut Austin Peay State University's lead to three with 90 seconds left in the half, but the Govs scored the final four points to take a 35-38 lead into the break.
Coming out of the locker room, the Eagles went on a 14-4 run to retake the lead, with a trio of threes providing a spark for a team that entered the night as a sub-30 percent shooter from deep. The first 10 minutes of the second half were a series of tense, single-possession affairs that saw momentum swing back and forth between the Eagles and Govs.
Austin Peay State University finally took over near the eight-minute mark. Well, really it was another round of Terry Taylor heroics. Two layups and a three took a two-point game to a 12-point game with just over five minutes left; Morehead State would make jut three shots over the final eight minutes as the APSU Govs held on to close out the regular season 14-0 at home—Austin Peay State University's 16-game home winning streak is tied for 10th-longest in the nation.
The Difference
The glass. Somehow, it always goes back to Austin Peay State University's work on the boards, and tonight was no exception as the Govs outrebounded Morehead State 45-33—the Governors fifth time outrebounding an OVC opponent by double-digits this season. The Govs are now at a plus-6.2 rebounding margin in league play, a number that jumps to plus-9.0 over the last six games.
APSU Notably
With the win, Austin Peay State University evened the all-time series at 56-56.
Eli Abaev finished with 11 points and 11 rebounds, his third double-double in the last four games. He's averaging 9.2 rebounds per night in his last 10 outings.
Austin Peay State University has now won five straight against Morehead State, the longest winning streak in the series for either squad since the Govs won six in a row from 2003-06.
The APSU Govs now have back-to-back 20-win seasons for the first time since 2006-07 and 2007-08; head coach Matt Figger is the first head coach in Austin Peay history with two 20-win seasons in his first three campaigns.
Freshman Jordyn Adams hauled in a career-best eight rebounds.
Silveira equaled his career-high with 17 minutes, scoring eight points and pulling down four rebounds. He's averaging 6.3 points and 3.0 rebounds on 90 percent shooting his last three games, making the most out of his 10.3 minutes per night.
After going 2-for-3 from deep against Morehead State, Alec Woodard is now 22-for-38 (57.9 percent) from three over his last 16 games.
Morehead State's 58 points equaled SIUE on January 30th for the lowest mark by an Austin Peay State University opponent in 2019-20.
The APSU Govs equaled their season low with seven made free-throws on a season-low 53.8 percent at the stripe, but Morehead State's 28.6 percent mark at the line also was a season-low for an Austin Peay State University opponent.
Austin Peay State University committed a season-low 11 fouls.
Milestone Watch—Career
Taylor passed Tom Morgan for fourth all-time in scoring, with the Bowling Green native now at 1,860 points. He also became the fourth player in program history with 900 career rebounds.
Coaching Quotables with APSU head coach Matt Figger
On the win
"It wasn't pretty. As the season has progressed, teams are really trying to get more physical with us and our guys have had to step up and show a level of toughness. It was an ugly, mauling game. I'm thankful we practiced zone today, because the zone saved us. They were just driving us."
On winning 20 games in back-to-back seasons
"It's a huge credit to our kids. I'm a confident person when it comes to talking about kids, but we had two mature players. Two. That's not a recipe for a 20-win season, but that tells you a lot about the character of the kids in that locker room."
On Saturday
"I look at the scores and I feel like all three of us, including Belmont, have gotten to the point where all three of us are feeling a little bit of pressure. We've gotten everybody's best shot. Belmont had their fights on the road at Morehead State and Eastern Kentucky and now their season boils down to winning at Tennessee State and we've got to go to Murray. All we can control is how we rest and how we prepare tomorrow."
Next Up For APSU Men's Basketball

I believe we covered this part, but Saturday is a pretty big day. Austin Peay State University and Murray State—the fiercest rivalry in a league filled with them—will square off in a winner-take-all battle at the CFSB Center in Murray, with tip off at 7:00pm.